2015 BMW Compact Sedan Concept Made its Debut at Guangzhou Show

BWM Group decided that Auto Guangzhou 2015 is the perfect spot to demonstrate brand's vision for the future of the four-door sedan compact segment. The BMW Concept Compact Sedan represents bold approach towards life of the young generation of China and will deliver confidence, dynamics and superior levels of driving pleasure. So, let's check it out.
Exterior design
The compact and flexible Concept brings that well-known BMW appearance. And with brand's signature proportions, this sweetie has a lot to offer: sweeping bonnet with long wheelbase for massive appearance, slightly set-back greenhouse to underline the sporty spirit, long and distinctive swage line, dynamic Hofmeister kink, surfaces with enhanced depth, soft-touch handles and overall elegant, but yet aggressive look.
The familiar form of the kidneys and their size contributes to the overall distinctive character. And the hexagonal and dynamically "sawn-off" twin circular LED headlights create visual link between the kidneys and bring that beautiful and stylish look. Furthermore, the V-shaped central air intaker is the starting point for a design theme that splits the lower section of the front end onto three sections and give it even deeper visual impact.

The rear, just like the front demonstrates massive and aggressive, but still stylish view with all these lateral lines and vibrant horizontal light and shadowed surfaces. The slim and long rear lights with the well-known L shape further enhance the stunning looks of the vehicle. And the rear apron reduces the gap between road and rear end, while the chrome insert that widens towards the outer edges adds some classy and stylish accents.
Interior design
The interior of the BMW Concept Compact Sedan is fully driver-oriented: all lines, components, forms and controls are placed on strategic spots, while the prominent lines deliver that "cone of vision" concept. This affair is further continued by the Heads Up Display with combiner screen that delivers all the needed information in seconds.
SEE ALSO: Did VOS Just Develop the Fastest Diesel BMW Vechile?
All the lines and surfaces further contribute to that feeling of space and comfort. For example, the instrument panel on the front passenger side extends into doors and creates warm and cozy ambience for passengers. Furthermore, the exclusive Nappa leather, the open-pored wood and the brushed aluminum bring that feel of exclusivity and elegance.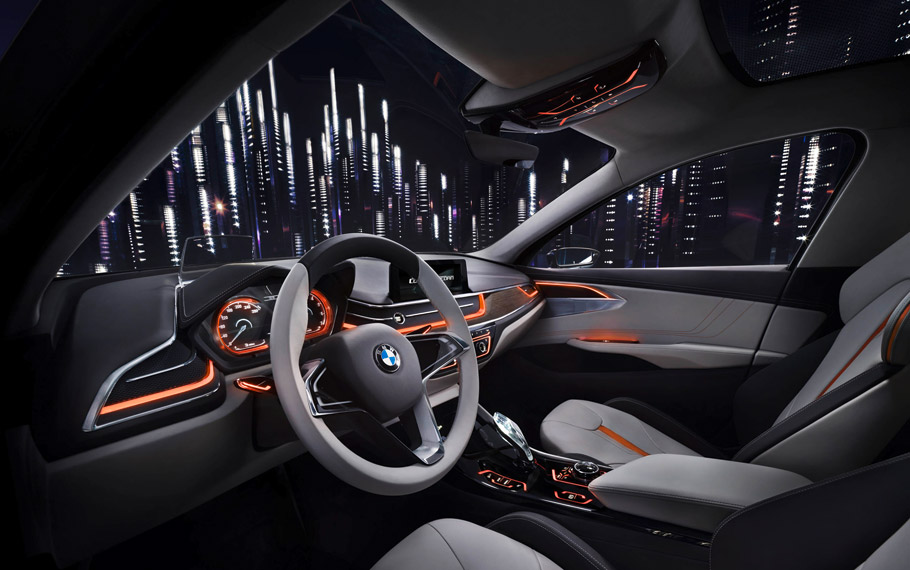 In terms of technical features, BMW Concept Compact Sedan will deliver climate control system, gearshift lever and iDrive system. All this along with functional steering wheel, centre stack, central console and door openers that are operated by using the backlit touch-sensitive surfaces.
It looks like BMW one more time did what it is best at doing: exclusive, premium and high-quality pieces of art, especially made for people who do know what they want.

Source: BMW