2015 BMW M4 Convertible at the 2014 New York Auto Show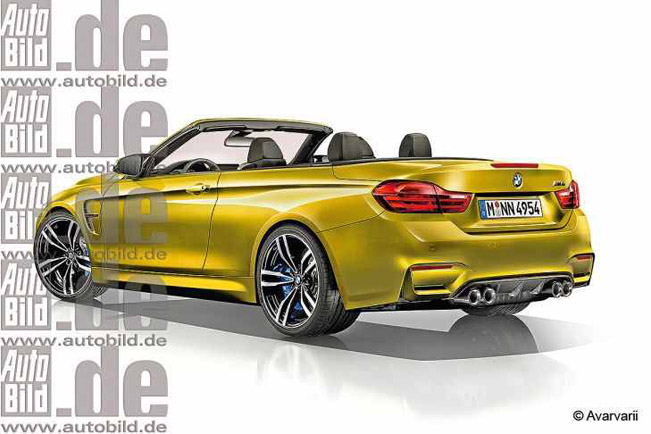 BMW will officially exhibit the 2015 M4 Convertible at this year's New York Auto Show. Other cars on display will be the all-new X4 as well as the 4-Series Gran Coupe, X3 Facelift and the Alpina B6 Gran Coupe.
2015 BMW M4 Convertible F83 will use the same drivetrain like the M4 Coupe and M3 Sedan – a 3.0 liter TwinPower Turbo Inline six-cylinder – 431HP (317 kW) at 5,500RPM and 550Nm (406 lb-ft) at 1,850RPM. The engine is mated to a 6-speed manual gearbox as standard. 0-100 km/h in 4.3 seconds and a top speed of 250 km/h (155 mph) or an optional 280 km/h (174 mph). The acceleration is even better, when fitted with the optional 7-speed ///M DCT – 4.1 seconds to 100 km/h. The fuel consumption will be probably a little bigger compared to 8.8 l / 100 km for M3 and M4.
As a reminder the 2015 BMW M3 Sedan F80 is priced from $62,000 and the M4 Coupe has a base price of $64,200. The Convertible will be a little bit more expensive.
Stay tuned for official information and pictures!
Source: BMWBlog