mbDESIGN BMW M4 Convertible is Perfect For Hot Summer Days

mbDESIGN BMW M4 Convertible is not only perfect for the summer, because it is all about an open top experience, but it is also the first of the four BMWs that are going to be featured on AutomobilesReview today. Let me tell you about what you should expect: there is another M4, a 7-Series and a huge and aggressively looking X6. Well, there is also a Lambo and an Audi. But in general the day is mostly dedicated to the Bavarian car manufacturer.
BMW M4 Convertible or any convertible is probably the best choice for the hot summer days (sorry Aussies, I know it's winter there). But if you don't have a convertible you can always count on the air-conditioning. Now we are going to bring our attention more on the first case and imagine that we are actually owning and driving a BMW M4 Convertible.
Benefits of Driving an M4 … With Some Simple Additions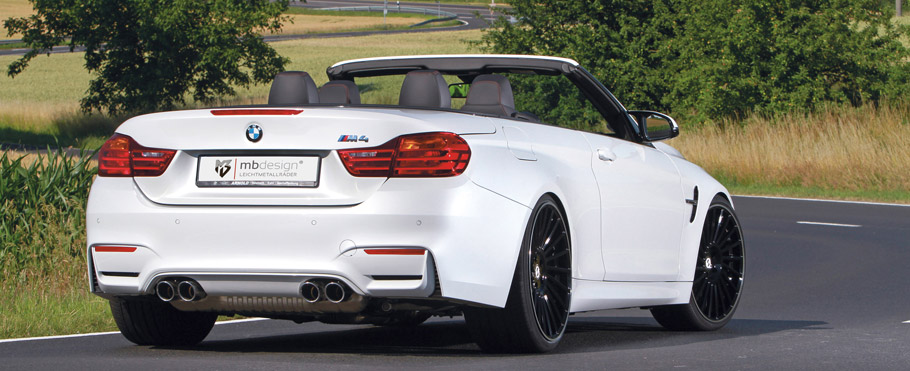 The first thing that probably many would do is contacting a customizer, so that their car could look even more individual. And in case they are not into big changes, then they will contact companies which specialize in the details. For instance, such are the experts at mbDESIGN, who are able to recognise their customer's individuality and to respond to their wishes.
SEE ALSO: Alpha-N Performance Gives BMW M4 Output and Aero Tweaks 
mbDESIGN have spectacular skills in making one-off alloys. And even more: this is perfectly visible via this M4 Convertible, which rides on 21-inch version of the VENTi-R Turbine Design. They come in gloss black and feature polished rim flange.
In other words, they perfectly contrast the 431 hp Mineral White metallic exterior of the M4 Convertible, which has been also fitted with factory Shadow Line optics. Inside, the leather seats are also special and are more in color-harmony with the alloys.
At the front we have 9x21-inch ET25 with a flush face, while the rear received 11x21-inch ET38 with deep dished centre. To make everything look perfect, mbDESIGN added 255/30ZR21 and 295/25ZR21Continental Sport Contact 5P tyres.
At last, we should say that there is this saying: "the bigger the wheels, the lower the right height". So it is no surprise that the tuners decided to bring the vehicle closer to the ground with the help of 30 mm using H&R sport springs.
Source: mbDESIGN