2015 BMW M4 Convertible - Officially Unveiled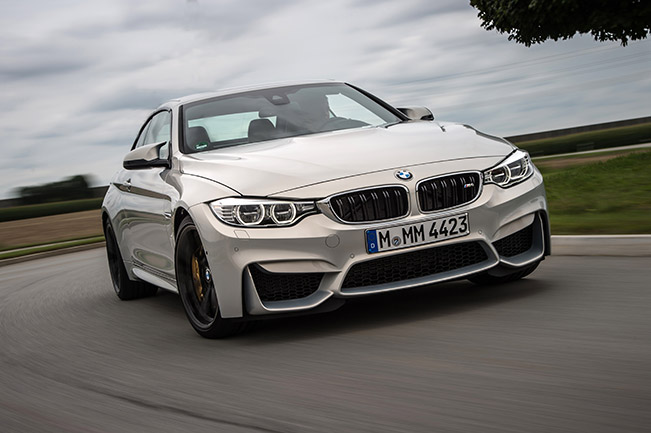 The newly announced 2015 BMW M4 Convertible at the Javits Center in New York offers those who seek more outdoors, fresh air and sunshine a new exciting experience.
The BMW M4 Convertible shares the elegant lines of its open-top 4-Series siblings. Its design language allows it to skilfully blend a distinctive and graceful silhouette boasting finely balanced proportions when the roof is open with an exceptionally dynamic coupe line, shown off B-pillars, with the hardtop closed. At the same time, the M4 Convertible's styling cues – including a signature power dome for the bonnet, eye-catching exterior mirrors in twinstalk style and flared front and rear wheel arches bulging over forged light alloy wheels with mixed tyres in 18-inch (optional 19-inch) format – all identify it clearly as a member of the BMW M3/M4 model family.
Powering the BMW M4 Convertible is the newly developed six-cylinder in-line engine with M TwinPower Turbo technology and high-revving character already familiar from the M3 Sedan and M4 Coupe. The power unit generates maximum output of 431hp (317 kW) from its 3.0-litre displacement and serves up peak torque of 550 Newton metres (406 lb-ft) across a wide rev band. 2015 BMW M4 Convertible accelerates 0 to 100 km/h (62 mph) in 4.4 seconds (with the optional seven-speed M Double Clutch Transmission) – but also offers sufficient reserves of power to cruise along in relaxed but rapid style with the roof down.
The arrival of the new BMW M4 Convertible (fuel consumption combined: 8.7 -9.1l/100 km 31–32.5 UK; CO2 emissions combined: 213–203 g/km) sees BMW M GmbH making another alluring addition to its legendary high-performance sports car line-up. The new M4 Convertible replicates the performance figures of the new BMW M3 Sedan (fuel consumption combined: 8.3-8.8 l/100 km 32.1–34.0 UK; CO2 emissions combined: 194-204 g/km) and the new BMW M4 Coupe (fuel consumption combined: 8.3-8.8 l/100 km, 32.1–34.0 UK; CO2 emissions combined: 194-204 g/km), but emphasises its stylish and distinctive appearance through its individual character and places the fascination of sporty and dynamic open-top driving at centre stage. The new model finds BMW M GmbH drawing inspiration from a long tradition: BMW's high-performance sports car for track and road is entering its fifth generation in open-top form with this new chapter in its history headed "M4 Convertible".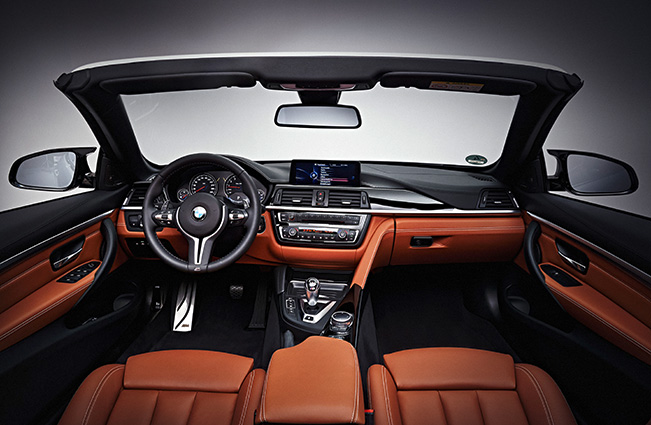 Like the BMW M3 Sedan and BMW M4 Coupe, the BMW M4 Convertible also displays a strict adherence to the intelligent lightweight construction principle. For example, the bonnet and front side panels are made from aluminium, as are many components of the high-performance chassis. Added to which, ultra-lightweight and – thanks to its hugely impressive rigidity – also extremely durable carbon-fibre-reinforced plastic (CFRP) is employed in many areas of the new M4 Convertible. This makes for a significant weight saving and a reduction in rotating masses. The CFRP precision strut in the engine compartment, meanwhile, weighs only 1.5 kilograms yet offers rigidity superior to that of a comparable aluminium component. It therefore plays a key part in the car's excellent steering response and precision.
The three-section folding metal roof of the BMW M4 Convertible has full interior lining and represents a compelling proposition with its excellent soundproofing and winter-proof construction. The roof opens at the touch of a button in under 20 seconds – while travelling at up to 18 km/h (11 mph), if required.
Complementing its already extensive standard specification, the new BMW M4 Convertible can also be ordered with a wealth of attractive options to further enhance its aesthetic appeal, dynamic prowess and comfort levels. And for that distinctive personal touch, the exclusive BMW Individual range of equipment offers the prospect of a unique driving experience. Special colours and materials can be fine-tuned to the driver's wishes.
While those power numbers certainly sound impressive, the M4 convertible's potential downfall is its weight. The addition of the power droptop pushes the car up to a hefty 4,055 pounds, though that's still some 90 pounds lighter than the previous-generation E93 M3 convertible. BMW has earned the benefit of the doubt, with decades of experience making even big crossovers with physics-defying abilities.
The M4 Convertible is on sale in the United States this summer and pricing is going to be announced closer to launch.
Source: BMW