2015 Ford F-Series Super Duty V8 6.7 liter Power Stroke Turbodiesel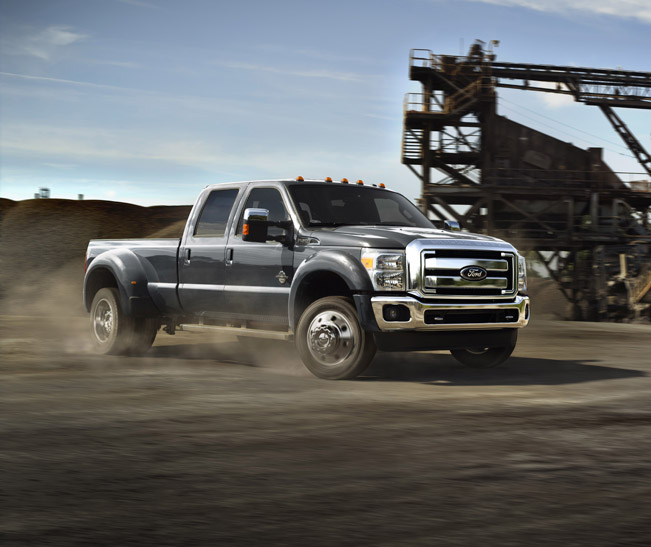 Ford has introduced their all-new 6.7 liter V8 Power Stroke turbodiesel engine, which will power the 2015 F-Series Super Duty line-up.
"Truck leadership means never resting, and the Super Duty team has been tireless in finding ways to improve the industry's most popular heavy-duty pickups," commented Joe Hinrichs, executive vice president and president of The Americas, Ford Motor Company.
"Super Duty diesel customers will benefit from improved performance and features backed by outstanding Built Ford Tough durability.", he added.
A key Ford innovation on the original 6.7 liter Power Stroke V8 turbo diesel was its so-called reverse-flow layout. The advanced design places the exhaust inside the engine's V-shape while the air intake is positioned on the outside of the V. This segment-exclusive design naturally improves a variety of attributes:
Shorter airflow from the exhaust system to the turbocharger sitting between the engine's cylinder banks improves turbo responsiveness – key to providing torque quickly to truck customers when they need it most
Positioning the turbo inside the engine's valley helps isolate the engine's hottest temperatures, improving performance and efficiency, while also reducing noise, vibration and harshness
One improvement is a larger GT37 turbocharger that replaces the previous GT32 model, enabling more airflow to the engine to produce more power beyond today's 400HP (294 kW) and 1080Nm (800 lb-ft) of torque.
The 2015 Ford F-450 is the range-topping model boasting maximum towing and hauling capability. Changes for 2015 model include a strengthened frame, suspension, new commercial-grade 19.5" wheels and tires, and core work components shared with F-Series Super Duty chassis cab models.
Source: Ford