2015 Ford Mustang comes with an advanced sound system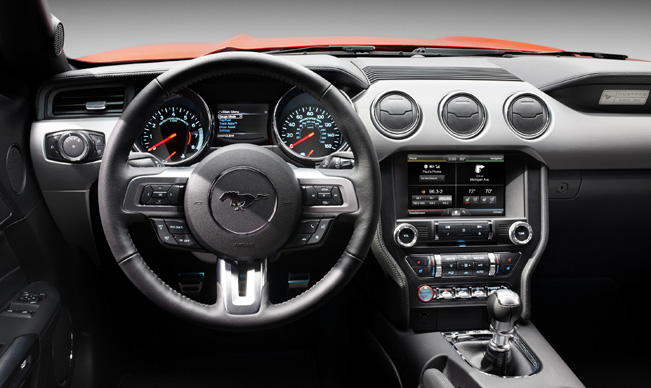 When you hear "Ford Mustang" you usually imagine a cool-looking, muscle sports car. If you do, you will not be mistaken – the Ford Mustang is indeed a muscle car but the latest 2015 model will come with something more – a really high quality sound system.
That's right – the 2015 Ford Mustang will be treating your ears with great sound thanks to the installed audio systems, three of which will find their places in the vehicle. The new model can provide you with a standard six-speaker configuration, a premium nine-speaker system with an eight-inch touch screen and a 12-speaker ShakerPro system with a trunk-mounted subwoofer – the choice is yours!
"As our team developed this Mustang, the goal was to improve the car's fidelity in every respect – from the way it slices through a corner to the way the audio system reproduces the sound of favorite driving songs," said Dave Pericak, Mustang chief engineer. "The process of rebuilding this car from the ground up allowed us to improve all aspects of the driving experience."
The installed sound system is not everything, though – the sound inside the Mustang is made better through the body of the car too. The new Mustang comes with a stronger body that is 28 per cent more resistant to twisting than the previous model, which results in less noise. The improved aerodynamics also aids the acoustic environment because it reduces wind noise, especially at highway speeds.
The speakers that the new 2015 Ford Mustang uses are mounted in the doors. The basic audio system configuration uses slimmer and lighter 6.5-inch door speakers that do not need as much travel to produce comparable audio volume, with higher-fidelity mid-range and bass sound. A pair of 6.5-inch round full-range speakers are mounted in the rear package tray of the fastback, or in the quarter panels in the convertible. The more expensive sound systems add a front center speaker mounted in the top of the instrument panel for improved vocal and speech clarity. These systems add a separate 8+1-channel amplifier, and use powerful neodymium magnet speakers to help reduce weight while improving overall sensitivity and sound reproduction. The mid-range nine-speaker system adds a second speaker to each door, separating the low and mid-range frequencies for improved fidelity. Apart from these the the top-end Shaker Pro system that is available on Mustang EcoBoost Premium and Mustang GT Premium brings 12 polymer cone speakers, with a pair of coaxial tweeter/woofers in the rear, plus a trunk-mounted subwoofer for maximum bass response.
Finally the new 2015 Ford Mustang is the first Ford vehicle to feature a high-power, 2.1-amp USB port in the media bin at the base of the center stack to charge various portable devices twice as fast as before.
Source: Ford Motor Company