Ford Begins Testing Of Right-Hand-Frive Mustangs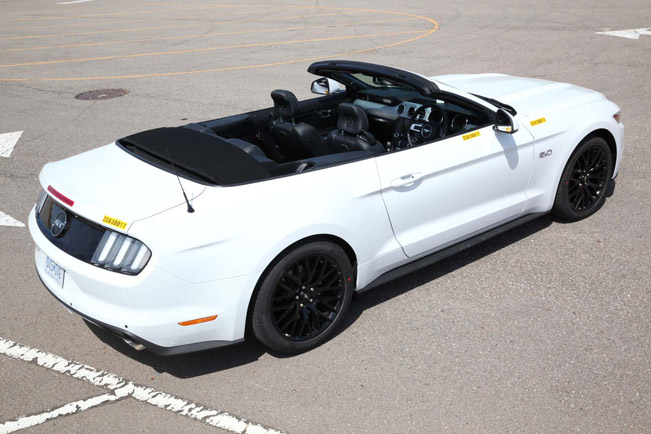 2015 Ford Mustang is already a fact. It has been unveiled months ago and all we are waiting for is seeing it on the streets rolling powerfully. Now, Ford is announcing, that for the first time ever, a right-hand-drive Ford Mustang will roll off a Ford assembly line when the production starts. This is great news because the addition of a right-hand-drive Mustang to Ford's line-up will allow the famous pony car to be exported to more than 25 right-hand-drive countries. Some to mention are United Kingdom, Australia and South Africa.
The construction of the very first right-hand-drive sixth-generation Mustang has been recently finished. The prototype will be utilized for various development tests which will serve as preparation for car's entry into the global market in the coming months.
Of course, the United States have been for the latest 50 years the largest market for Mustang on the world. In fact, there have been more than 9.2 million sales since the car's debut in 1964. For this period of time, more than 161,000 Mustangs have been sold outside of North America.
2015 Ford Mustang will be powered by one of these three engines: the upgraded 435 horsepower V8, the standard 300 horsepower V6 and the new 310 horsepower EcoBoost. Every powertrain can be coupled with either a manual or automatic transmission.
The 2.3-liter EcoBoost also produces 434 Nm (320 lb-ft) of torque. EcoBoost benefits from direct fuel injection, twin independent variable camshaft timing and turbocharging thus producing big-engine power and torque with improved fuel economy. The must powerful unit is the 5.0-liter V8 engine. It has undergone many upgrades which help it work better in higher speeds. It has an output of 435 horsepower (320 kW) and 542 Nm (400 lb.-ft.) of torque.
The sixth-generation Mustang will go on sale in the United States this autumn and in the UK in 2015. It will be made available in more than 110 countries worldwide.
Source: Ford