2015 Ford Mustang Lockheed Martin F-35 Lightning II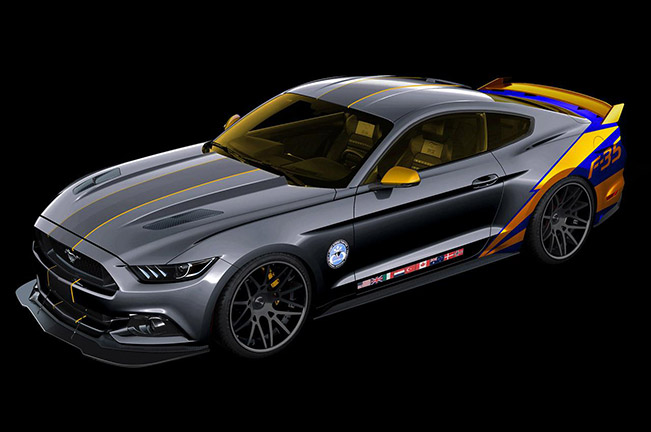 Ford US is going to exhibit a unique 2015 Mustang Lockheed Martin F-35 Lightning II at the 2014 EAA AirVenture event. The manufacturer has created a nice tradition to prepare special aviation-themed models to showcase at the Experimental Aircraft Association AirVenture in Oshkosh, Wisconsin.
Besides the Lockheed Martin F-35 Lightning II theme, the specially-prepared car comes with a new front splitter from carbon fiber, a new rear diffuser and special decals. The interior boasts Recaro bucket seats as well as yellow tinted windows and other nice upgrades.
The 2015 Mustang Lockheed Martin F-35 Lightning II will be auctioned at the Gathering of Eagles charity event at EAA AirVenture. The money will be donated to the EAA Young Eagles program. This is a non-profit organization, which provides free flights and since 1992 almost two million people participated in the program. It helps the normal people to achieve their dreams of flying on a fighter jet.
No words about the engine, but it will be probably the powerful 5.0 liter V8 - 426HP (313 kW) at 6,500RPM and 529Nm (390 lb-ft) at 4,250RPM. The one-off model will be fitted with a 3.55 Limited Slip Differential, GT Performance Package and Reverse Park Assist.