2015 Ford S-Max MPV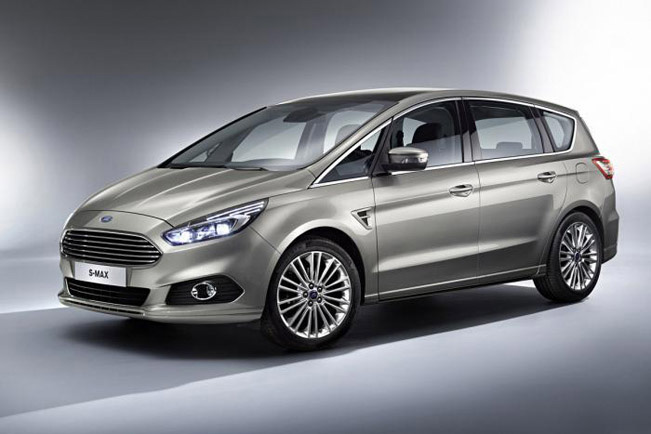 While it's good looking from the outside its pretty stylish from the inside. The Ford S-Max is based mainly on the Galaxy, so it is seven seats standard. Although it's a little bit shorter and lower. S-Max remains a deeply practical family car. Like the Galaxy, there is plenty of headroom and legroom. The flat floor allows 3 adults to easily fit inside. Each chair is equipped with ISOFIX point for child car seats and can move forward or backwards and recline independently of one another. You also get another 3 seats in the third tier seating. Even if all seats are used, there is still plenty of luggage space in the trunk around 285 litres, with a nice loading bay. Thanks to the fold flat seating system with you can also get an impression of a van, and the bootspace then becomes 2000 litres.
The cabin is noise isolated. Theres plenty of pracfticality in the front side as well. The car has a lot of cup holders in the front side as well as in the rear side, a spacious glove box, and the door bends provide more enough space to fir in various things. There is a lot of soft touch material inside the cabin. Sound equipment is impressive as well. All cars get Bluetooth for your mobile phone, dual zone climate control, and all-round parking sensors with lots of safety kits as well, along with an airbag next to the driver's knee. The panoramic view is a nice addition as well.
The length of the car is 4870 mm. The wrap-around tail lights, the 18-inch alloys and even a daytime running LED front lights help to create a surprisingly stylish design of the car. The S-Max has a fantastic body control and smooth handling. The massive expansive glass allows amximum visibility. The S-Max handles way better than any other MPV.
The MPV is expected to be offered with a four-wheel-drive for the first time.The Ford S-Max MPV will come out with a118 bhp (80 kW) 2.0-liter TDCI diesel engine with a six-speed manual transmission. The more powerful 148 bhp (110 kW) and 177 bhp (132 kW) versions of the same unit will be available with either a six-speed manual or a dual-clutch automatic transmission.
The petrol engines are the new 1.5-liter EcoBoost with 158 bhp (118 kW) and the 237 bhp (177 kW) 2.0-liter EcoBoost.
What I don't like about the Ford S-Max MPV is that if you need to carry 6 passengers regularly, you would be better off with a more "boxy" MPV because the rear sets are so low that it feels like you are sitting on the floor.
Sales of the model will start from summer of 2015 and is priced at around 30,000 EUR (24,000 pounds).
Source: Ford