2015 Honda Jazz Will Offer Enhanced Comfort and Features
2015 Honda Jazz comes with the best features of its prededessors
Honda announced details for the 2015 Jazz vehicle, Honda's subcompact hatchback. The car will be offered in a wide variety of models, from the entry-level S model to the sophisticated EX Navi CVT. Honda brand also offers special payment plans , which include exceptional affordability and flexibility. The 2015 Jazz is based on the reputation of its predecessors and now offers some wonderful features, along with distinctive exterior lines and sweet performance flexibility.
The latest Jazz model offers a platform with increased overall length by 95 mm and some highly efficient package additions. Now the 2015 model is even bigger from the inside, compared to older models and passengers will definitely love the boot space of 354 liters with rear seats up and 897 with seats down. And as it comes to Honda vehicles, the 2015 Jazz model offers some exceptional versatility and flexibility with its Magic Seat system and all the cargo configurations. In fact, the total loading length is measured in total of 2,480 mm.
All the models in the lineup come with some rich equipment, that will be enough even with the base-grade S model. The air conditioning, cruise control, speed limiter and dusk sensing auto lights are all part of the standard equipment. Furthermore, every grade comes with Honda's City-Brake Active to help avoid low-speed crashes and accidents.
The mid-range SE model adds rear parking sensors, electrically adjustable and heated door mirrors and special 15"alloy wheels. The SE lineup also comes with Honda's Driver Assistance Safety Pack, that gives owners some additional safety aids.
And the top-range EX model lineup will grant customers with smart entry and start, automatic climate control and a special six-speaker audio system. The EX lineup will also include 16-inch enhanced wheels and front fog lamps.
Furthermore, owners to the SE or EX models will also benefit from Honda's special Connect in-car infotainment system. It is an Android-based system, that offers some easy to use interface, via seven-inch touch screen monitor. It will allow users to easily search the web, connect to the social media sites and of course listen to some radio or watch the news. How cool is that?

Safety features
2015 Honda Jazz will also provide some five-star Euro NCAP-rated safety features. All the models in the 2015 Jazz lineup will be geared with Honda's City-Brake Active system, while SE and EX models will be fitted with Honda's Driver Assistance Safety Pack. It adds radar sensors and forward and backward-facing cameras. The suite of safety features will also add Forward Collision Warning, Traffic Sign Recognition, Intelligent Speed Limiter, Lane Departure Warning and High-beam Support System. Surely, everyone will feel safe and comfortable in vehicle like that, right?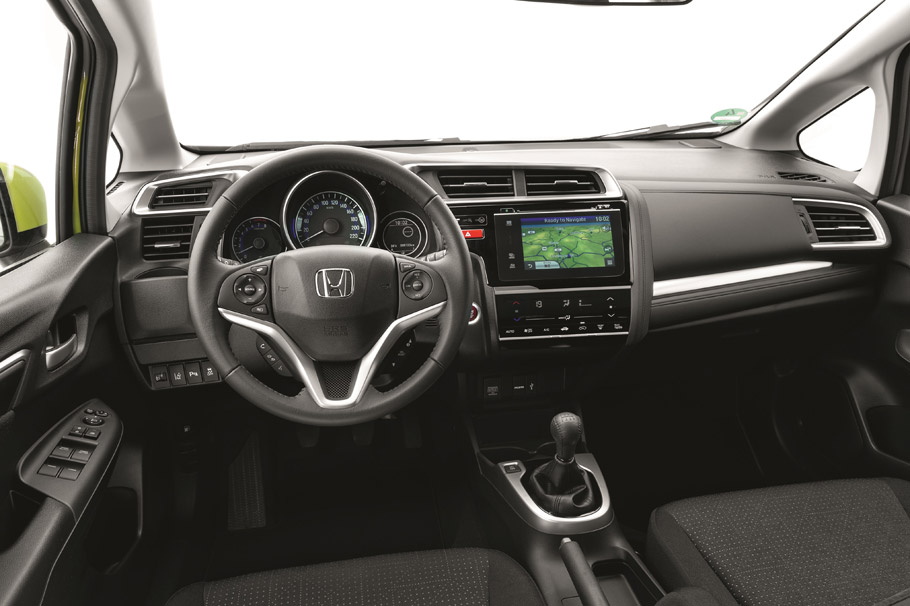 Drivetrain technology
2015 Honda Jazz comes with a refreshed and efficient 1.3 i-VTECK petrol unit. It offers 102 hp (75 kW) at 6,000 rpm. This engineer solution offers the smooth performance of the previous Jazz model 1.4 engine and the economy of the 1.2 model. Nice, huh? This engine is paired either with a six-speed manual gearbox or the recently developed CVT and the emissions are as low as 106g/km.
2015 Honda Jazz will be on sale in the UK in September with starting price at $21,000
Source: Honda