2015 Hyundai Genesis Scoops Ruedas ESPN "Best Luxury Sedan" Award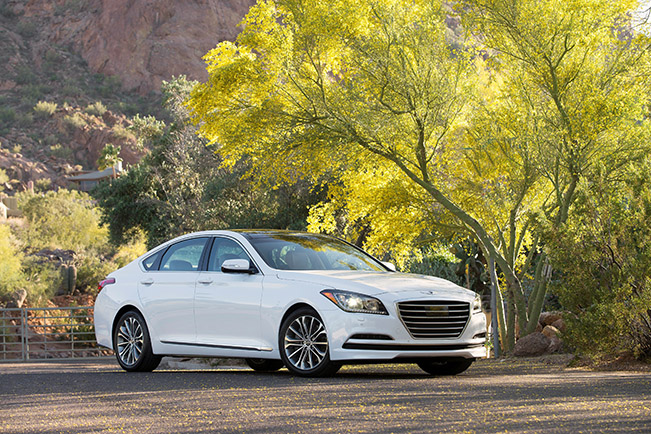 With its well-built comfortable interior, well-crafted cabin, powerful engine, high reliability and safety ratings, the new 2015 Hyundai Genesis Sedan earned the accolade of "Best Luxury Sedan" presented by the leading Spanish automotive radio show Ruedas ESPN. This model is another addition to Hyundai's already praised vehicles such as the 2014 Hyundai Equus and 2014 Hyundai Santa Fe, which were named Ruedas ESPN's "Best Luxury Sedan" and "Best Large SUV," respectively in 2013. The reward was introduced at the 44th annual Miami International Auto Show and it proves to be the ultimate testimony of Genesis' excellent quality and standards.
The 2015 Genesis is an expression of Hyundai's brave and innovative notions which propel the automotive company further on. The renewed interior and improved exterior, the car depicts class implemented in its premium features and superb driving dynamics. The sedan is said to be more powerful and stiffer than before which makes the ride more comfortable and pleasant. Hyundai Genesis is equipped with a suite of advanced assistance components like Rear Cross-traffic Alert, Lane Change Assist, Blind-Spot Detection and Smart Cruise Control.
There are two engine options: a 311 horsepower 3.8 liter V6 and a 420 horsepower 5.0 liter V8 engine, On top of this, the car comes with an advanced HTRAC AWD system that is available for the first time on a Hyundai passenger car. By all means then, the vehicle discloses an impressive combination of plain but stylish design, safety, premium value and better dynamics.
2015 Hyundai Genesis Sedan has a starting price of $38,000.
Source: Hyundai