2015 Lexus NX 300h E-Four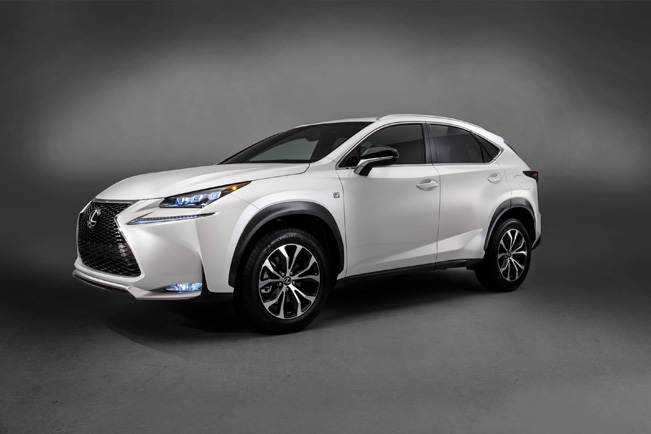 The 2015 Lexus NX which is the hybrid version of Lexus' new compact luxury crossover. It brings a total of 6 new hybrids for the brand, the most among luxury brands. The base model and the hybrid one have a very compliant suspension system, quiet and smooth ride and a very comfortable interior.
The innovating new system "E-four" installed in the car, safes energy and fuel. It uses a powerful electric motor to drive the rear axle, that way it provides additional providing grip and a lot better vehicle control on slippery surfaces. E-Four is a smart system, varying the amount of drive torque to the rear wheels along with  driving dynamics and different road conditions, to secure just the right stability when pulling away or accelerating in low-grip conditions.
There are three important things you need to know about the NX:
Its unique aggressive styling is probably unlike anything you have seen before.
There are innovative features inside and out.
An efficient fuel economy model
This is a very useful vehicle. There is a cargo cover in the trunk area, the seats can be fold down, providing additional space to fit in a lot of luggage. But it wouldn't be exactly good if you want to use it to renovate your home. More importantly though, this is a really flexible vehicle, with an all-wheel drive as an option, it gives the feeling of a very comfortable ride, providing that extra traction you need during the winter. There is almost no wind noise, theres not a lot intrusion from the suspension into the cabin.
Lexus' signature spindle grill is easily distinquished. The head lamps fit in perfectly like puzzle pieces. LED low-beam lights with halogen high-beam come as standard. Three projector LED low and high beams are also available. The Nx300h comes with a uniquely shaped LED fog lamps. Look from a profile you can see muscular arches connected by a beltline. The power side mirrors are heated and at top, aluminum roof rails are standard. There are sculpted LED tail lamps, enhanced with a black exo skeleton.
The NX300h comes with standard 10-spoke 17-inch wheels. Duo exhaust pipes have been added for the first time on a Lexus utility vehicle. The NX door handles are designed to be functional and beautiful
From the inside it's a luxury car. The rear seats are nicely done, they can incline providing little extra legroom for adults. The NX comes with a lot of technology innovations throughout the interior.
This vehicle has a 2.5 l 4-cylinder engine that generates 194 hp which is more than enough for a vehicle of this size. As far as for gearboxes, the NX will have 2 different choices, dpending on which engine you go with. Turbo models will feautre a standard 6-speed automatic programing that automatically calculates the torque required based on the driving scenario to help maximize acceleration and response on demand.
The Nx300h achieves combined cycle fuel economy of 54.3mpg with 121g/km CO2 emissions.
Source: Lexus