2015 Mercedes-Benz V-Class Brims with Design and Technology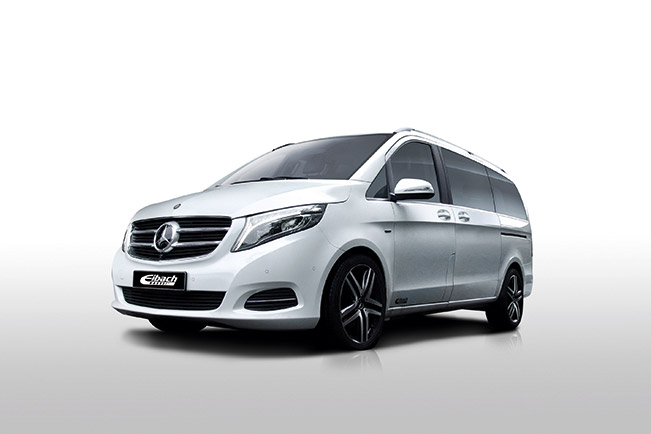 With the V-Class, Mercedes-Benz successfully redefines what vans stand for. Yet, the first appearance of the new 2015 Mercedes-Benz V-Class at the 2014 Geneva Auto Show did not seem to throw everyone in ecstasy. This could be changed.
The all new V-Class contains a sort of eye-catching luxury, safety, high-class appeal, comfort and space which are enough to put it at the top of its class. The sporty maxi van offers seating and luggage space for up to eight people which makes it ideal for those who appreciate and prefer bigger spaciousness without discarding elegancy and convenience.
Additionally, the car features Eibach Pro-Kit ad Pro-Spacer both of which improve the performance of the vehicle. On the one hand, the integrated Pro-Kit Performance Springs provide the van with a slightly sportier perception. The Pro-Kit also offers excellent performance handling, progressive spring design, top driving quality and gives a moderate lowering of the center of gravity which lowers the vehicle up to 40mm. On the other hand, there is the Pro-Spacer which is made from high-tensile –strength aluminum alloy. As a result, it brings a fundamental weight advantage compared to wheel spacers made from steel. Moreover, the Pro-Spacer widens the driver's stance which results in better handling, again, and better appearance.
The interior of the Mercedes-Benz V-Class maxi van is quite striking in its very own way. The dashboard can be found in four versions of décor. In order to manage the optional COMAND infotainment system in easier and more practical way, there is a multi-gesture touchpad. For ultimate and safe experience while driving, there's a microphone up front that's linked into the stereo system so when the driver speaks, he or she does not have to turn around. Nice, eh?
Source: Mercedes-Benz