2015 Subaru BRZ Special Edition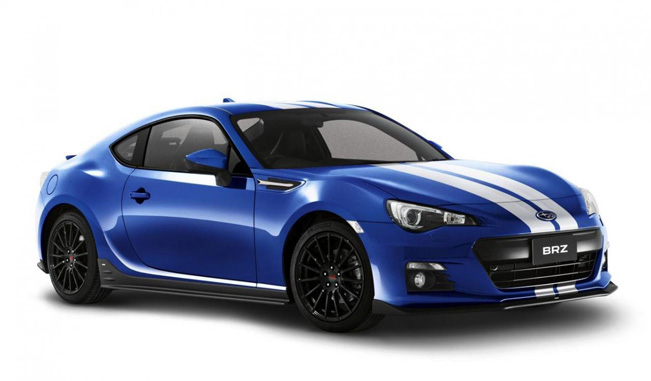 Subaru is introducing a special edition BRZ which comes with several upgrades.New for 2015 are the fin shark antena on top of the car, some improved interior elements as well as reworked suspension system to enhance the driving feel, compared to the last year. The 2015 Subaru BRZ comes in 3 trim levels: Premium, limited, and the "series blue limited edition" of which only a thousand will be made.
This 2015 Subaru comes with a 2.0 liter 4-cylinder boxer engine, that gets up to 200 (147 kW) horsepower and 151 lb-ft (205 Nm) of torque, conjugated with a six speed manual transmission that will get you up to 30 mpg on the highway. Depending on which trim level you choose your 2015 Subaru BRZ,it comes with a number of exterior enhancements, stepping up from the premium to the limited BRZ will get you a rear deck lid spoiler. And going from the premium to the series blue, gets you awesome STI designed wheels. You can also notice an aero kit installed on the car, including the front side, the rear diffuser and the skirts that run along the side of the car
The 2015 Subaru BRZ has really been designed with the enthusiast in mind.
There is a large center mounted tachometer and also the six speed manual transmission easily within the arm's reach. A carbon fiber trim on the dahs board with blue stitching that goes all around the interior which is exclusive to the BRZ models
One thing that I find disappointing with the BRZ is the lack of steering wheel mounted controls. However you do get a navigation and Bluetooth connectivity standard with every BRZ . Along with that when you step from the premium to the limited edition, you get heated leather seating surfaces, heated mirrors as well as key less ignition and key less entry.
Available to order, the 2015 Subaru BRZ special edition (AU-spec) will reach its customers in November.
Source: Subaru