2015 Subaru WRX S4 Debuts in Japan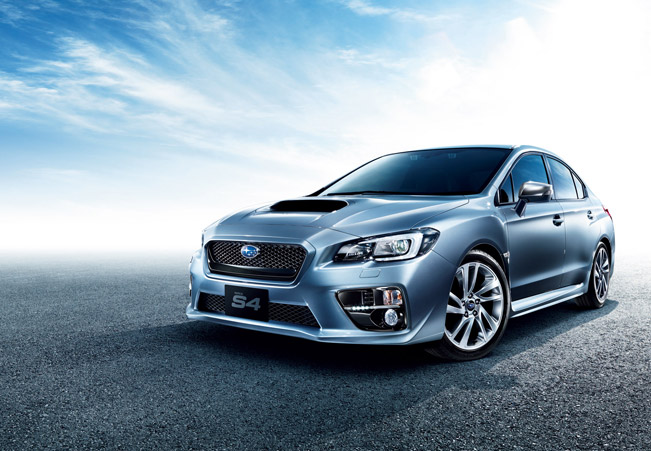 2015 Subaru WRX S4 has jus been introduced after it was teased a month ago with a special campaign. The sports sedan will be exclusively distributed throughout Japan and is currently available to order. WRX S4 uses the all-wheel drive (AWD) combined with unique overall safety features, superior environmental friendliness and refined quality. The S4 tag at the end of the name of the car shows the four values of "sports performance", "safety performance", "smart driving" and "sophisticated feel".
WRX S4 is equipped with a high performance 2.0-liter Horizontally-Opposed direct injection turbo "DIT" engine. It produces 304 horsepower (221 kW) at 5,600 rpm and 400 Nm (295 lb-ft) of torque at 2,000 to 4,800 rpm. Despite these numbers, the vehicle still delivers fuel economy of 13.2 km per liter.
The unit is teamed with Sport Lineartronic transmission, offering sporty and fun driving. What is more, the Subaru WRX S4 also includes EyeSight driving assist system for enhanced overall safety. Comprehensive body and chassis enhancements have achieved a high-quality ride.
EyeSight delivers more advanced safety features such as driver assistance at wider angles and longer distances, and color recognition. Other new systems include the Active Lane Keep steering assistance system, Pre-Collision Reverse Throttle Management, Brake Light Recognition, Pre-Collision Braking Control and Adaptive Cruise Control.
In terms of passive safety, the car employs more high tensile steel plating with strengthened joints with various structures. These changes not only reduce the overall weight of the car but also contribute for a stronger body. In addition, collision-absorbing structure has been used for the hood and bulkhead as well as for the engine compartment side for increased pedestrian protection.
The exterior design of the WRX S4 expresses strong presence, aggressive but refined styling. The front end was built with the utilization of a nose cone design for a dynamic solid shape. There is the iconic hexagonal grille and the new hawkeye headlights.
At the rear we see a diffuser-integrated bumper and twin dual mufflers, which emphasize low center of gravity and driving performance. There is also a small rear spoiler which optimizes the aerodynamics. The taillights are with thin shape to highlight vehicle width.
Inside, the driver's seat was designed to be like a cockpit, while a D-shaped steering wheel is used for the firs time in a WRX model. The leather-finish gearshift boot features red stitching. Piano black finishes and metallic accents is what emphasize the sporty interior. The coupe is solid black from roof to floor made from quality materials. Red is utilized throughout on stitching and serves to highlight the WRX racing image.
Source: Subaru