2015 Subaru WRX Debut at Los Angeles Auto Show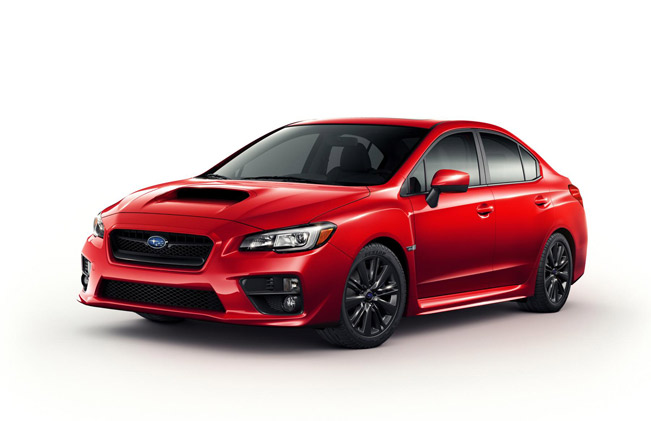 Exciting news from the LA Auto Show. The 2015 Subaru WRX is now a fact of life. It's more powerful and better handling than its iconic predecessors. It is also the first WRX to feature a six-speed manual or, as an option, the newly developed Sport Lineartronic CVT that has two manual modes.
Subaru say that this latest WRX is an important evolutionary step for their rally-bred performance line. Technologically speaking, we see a new torque-vectoring system that adds to the already sophisticated Symmetrical All-Wheel Drive setup. The chassis is supposedly stiffer, the brakes are larger while the new powertrain returns more fuel-economy. In case you are wondring what that powertrain actually is, we are talking about a 2.0-liter, 4-cylinder BOXER engine complemented by a twin-scroll turbocharger and an intercooler. Because of that, plus an unusally high compression rate (10.6:1), direct-injection, and Subaru's Dual Active Valve Control System (D-AVCS), it develops 268 hp at 5,600 rpm and 258 lb.-ft of torque between 2,000 and 5,200 rpm. Not exactly the most powerful 2.0 engine in the world, but still blisteringly impressive.
There are also visual highlights worthy of mentioning. The hood, front fenders, rear doors and quarters, bumpers, and tailight clusters are all new. The now narrower headlights are supposed to remind us of a raptor's stare. Maybe someone with more imagination can see that. We, on the other hand, will slowly back away and maybe remark on the standard 17-inch wheels which are "more aerodynamic" than before and are wrapped in 235/45 R17 94W Dunlop SP Sport Maxx RT tires.
What is the Sport Linetronic CVT then? Obviously, it is a continuously variable transmission. But one that can also switch between manners of changing gears - one mode allows stepped automatic shifting of eight pre-selected ratios. The other two are 6-speed and 8-speed "manual shifting modes" where the steering wheel paddle switches can be used.
If you go for the 6-speed manual, the Subaru WRX will be equipped with the brand's Continuous AWD system. In normal circumstances a distribution box sends equal amounts of torque to both the front and back wheels. When grip becomes a luxury, however, most torque is sent to the wheel with most traction.
Should you go for the Sport Linetronic, you will also get the Variable Torque Distribution (VTD) type of Symmetrical All-Wheel Drive – again a type of center differential but with an electronically controlled hydraulic transfer clutch control torque distribution (sheesh!) between the front and rear wheels. Most of the time you will be enjoying 55 percent of the toque going towards the back while the rest ends up at the front. But that can be subject to change depending on the driving conditions, steering wheel input, yaw and the lateral g-forces you are generating. Also, because of the Sport Lineartronic CVT, you get to play with Subaru's Intelligent Drive (SI-DRIVE) which offers three modes of powertrain settings - "Intelligent", "Sport", and "Sport Sharp". Who's going to use the second one?! "Oh, I don't really want to drive economically but let's be reasonable now."
Because the wheel base is now one inch longer and the A-pillers are eight inches pulled forward at the bottom, there is a general feel of roominess. At the back, passengers will enjoy two inches more legroom and there's more space in the boot. There's leather on the flat-bottomed steering wheel and "soft-touch" materials on the dashboard, door trim and center console armrest. No expenses were spared on the IT department as well. A 4.3-inch LCD screen displays a plethora of information – you can put the rear-view camera display on it, or you can set the audio, Bluetooth and climate control settings from it. An additional 3.5-inch LCD sits between the two gauges in front of you. There you can keep track on the oil level, selected gear, and, of all things, window washer fluid. This will be also the first WRX that can come with a premium 440-watt, 9-speaker harman/kardon premium audio system and navigation with Aha® smartphone integration. Cool beans!
Source: Subaru