2016 BMW M2 Comes Style, Power and Neat Engine Flexibility

BMW M2 is the latest compact sporty coupe and just like its 2002 Turbo, E30 M3 and 1M Coupe siblings it offers contemporary gadgets, hi-tech engineering solutions and latest tendencies in motor sport technologies.
Geared with new and fresh 3.0-liter BMW TwinPower Turbo technology, paired to a seven-speed M DCT gearbox,  the machine produces a total of 370 hp (272 kW) and sprints from 0 to 100 km/h (62 mph) in just 4.3 seconds. These high performance stats are the result of the fine blend between base 2 Series Coupe body, improved aerodynamics and revised cooling capabilities. And of course, the engineering team has managed to reduce some of the overall weight. All these ingredients contribute to a pure and rewarding drive.
Design
SEE ALSO: dÄHLer Tuning Know-How: Perfect for the BMW X5 M and X6 M
The latest M family member features a large front apron with trapezoidal blades while the Air Curtains in the outer air intakes are inspired by the well-known BMW 3.0 CSL model. And thanks to the overall engineering tweaks, the vehicle has improved channeling of the airflow and the drag is reduced with overall 5%.
The rear highlights its firm grip on the road and it is further enhanced by these sweet horizontal lines, the nice spoiler and the diffuser.
And the sweetie can be ordered with one of four distinctive colors: Long Beach Blue metallic, Alpine White, Black Sapphire and Mineral Grey
Interior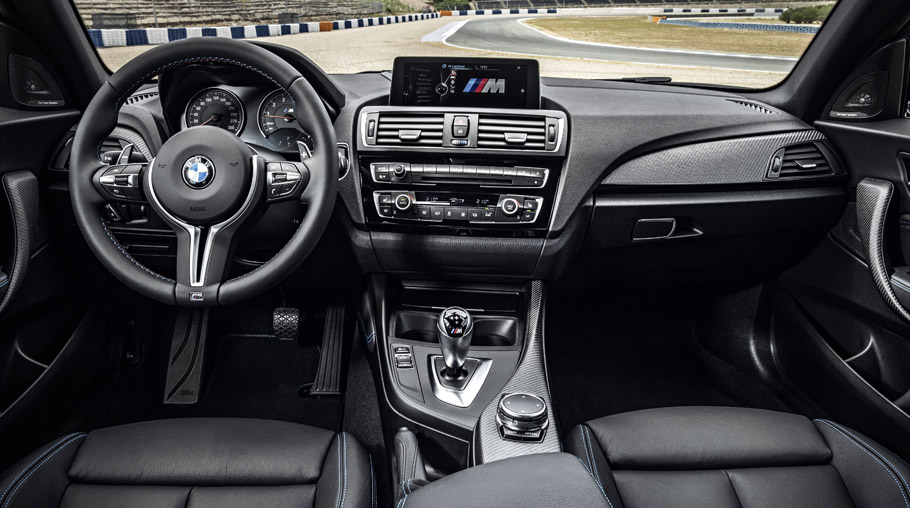 The cabin welcomes driver and passengers with neat sporty seats, covered n black Dakota leather with blue stitching and the compulsory M logo. M2 offers extended range of gadgets and tweaks like the Navigation Professional system, Professional Media Package and Xenon headlights. Yep, all these are part of the standard package. And the good news is that everyone can add some optional features.
Drivetrain system
Let's get back to the engine. The latest BMW M2 entirely sticks to the BMW M tradition. The latest unit brings that smooth and pleasurable ride, but it will instantly show its aggressive side once you hit the pedal harder. It offers linear power delivery and strong torque across a broad rev range and on top of that has a distinctive and pleasurable roar.
The 370 hp monster has a peak torque of 465 Nm between 1,400 and 5,560 rpm. And you shouldn't be worried if it is not enough for you. The new M2 offers a special overboost function that raises the overall torque level  with 35 Nm.
In addition, this unit can be paired to either the standard six-speed manual gearbox with dry-sump lubrication and speed control function or with the optional latest-gen seven-speed M DCT. It offers the option to use it manually or automatically by changing its modes with buttons on the centre console.
Source: BMW