2016 Hennessey VelociRaptor SUV Introduced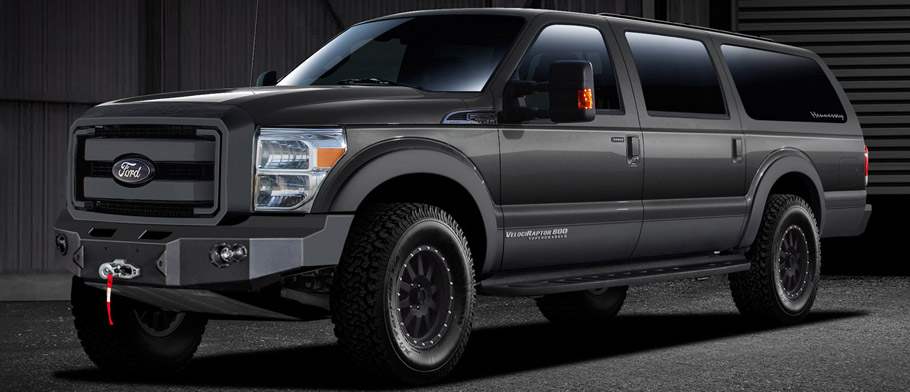 2016 Hennessey VelociRaptor SUV has been exclusively introduced! The famous vehicle in Hennessey Performance line-up is more capable than ever, features fantastic upgrades and huge loading space and room for eight persons. The monstrous VelociRaptor is based on the Ford F-250 Lariat 4x4 Pick-up Truck.
If the F-250 comes straight from the factory, its 6.2L V8 gas engine will produce 411 horsepower (301 kW). However Hennessey is famous for its power fortifications, so there is no second thought that the experts won't include a performance boost here.
Engine Upgrade Options
Two of company's proven superchargers have been included for the 2016 Hennessey VelociRaptor SUV. The options for the 6.2L V8 engine are: VelociRaptor 600 Supercharged and VelociRaptor 650 Supercharged upgrades. Hennessey did not specify the exact horsepower numbers here, but as the names suggest we expect 600 hp (441 kW) and 650hp (478 kW), respectively.
SEE ALSO: See How Hennessey VelociRaptor Survives TopGear Test [VIDEOS]
In addition, there is also a diesel option. Called 6.7L PowerStroke diesel package, it gives the vehicle the force of producing 440 hp (324 kW) and 1192 Nm (880 lb-ft) of torque.
VelociRaptor Conversion
The tuning company not only enhanced the power of this huge machine. The specialists have also created a conversion kit, which have contributed for vehicle's unique appearance. Precisely, 2016 Hennessey VelociRaptor SUV can stand proud with its four doors and rear cargo doors.
The designers of the interior decided to give the VelociRaptor middle row captains chairs and folding third row bench seat for a total of seven seats and seat belts. There is also an optional middle row 60/40 folding center console. It will make it possible for eight people to sit comfortably inside.
The exterior appearance of the VelociRaptor is defined by a new bumper, exterior badges, serial numbered dash plaque and engine bay plaque. This comes as a standard. The available options include wheel and tire upgrades, new rear bumper, LED light bar integrated into the front bumper, warn front winch for the front bumper and suspension upgrade.
2016 Hennessey VelociRaptor SUV has a starting of $159,500 USD.
Source: Hennessey Performance