2016 Mercedes-Benz S-Class Maybach Debuts Officially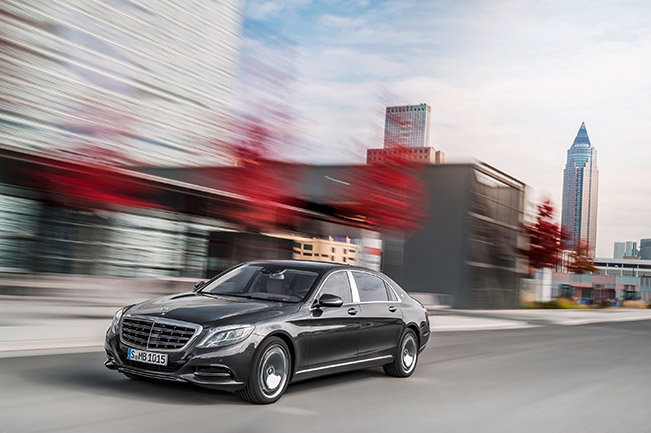 2016 Mercedes-Benz S-Class Maybach may just become the synonym for class, individual character, luxury and exclusive superiority. It has been officially revealed in its two key markets in the USA and China, Los Angeles and Guangzhou, almost at the same time. The saloon car represents another huge step towards the already successfully innovative march of Mercedes-Benz manufacturer.
The S-Class Maybach undoubtedly carries a sort of prestige which has never been seen before. It is tremendously stylish and arrives with a certain amount of confidence which springs out of every possible part of the car.
The top-of-the-range model is the Mercedes-Maybach S 600. It is powered by a V12 biturbo engine which has the robust output of 530 hp. With a displacement of 5980 cc, the peak torque of 830 Nm is available from 1900 rpm. The V8 biturbo engine placed in the Mercedes-Maybach S 500 is able to produce 455 hp from a displacement of 4663 cc. Its maximum torque is estimated at 700 Nm. NEDC combined fuel consumption for the saloon is 31.7 mpg (premium petrol) with CO2 emissions of 207 g/km. The vehicle benefits from exclusive 20-inch (50.8 cm) forged, light-alloy wheels. Their design includes large surfaces to underline the flagship model's high-quality look. The Mercedes-Maybach S-Class is considered to be the world's quietest production saloon car.
The sleek exterior of the Maybach is an amalgamation of immense style, supremacy and trend-setting exceptionality. The car is a definition of modern luxury conveyed in an exclusive manner. Moreover, alongside the extended wheelbase, the explicit lines hint at dynamism and power. Nevertheless, the most cardinal feature which differentiates the Mercedes S-Class Maybach is the new side line. If you compare it with the long-wheelbase version of the S-Class, you can see that the outstanding rear door has been shortened by 66 mm. As a result it looks more than just natural as it gently fades away into the overall composition. The elegant Maybach Manufaktur logo – a double M inside an arched triangle – is mounted on both sides of the C-pillars.
Inside the Mercedes-Maybach S-Class, the lounge style brings a definite feel of comfortable spaciousness and sensuous elegance. For an exclusive look, the front center is wrapped around with nappa leather or exclusive nappa leather upholstery embossed Maybach crests. Another special feature in the dashboard is the analogue clock with an IWC design.
2016 Mercedes-Benz S-Class Maybach features a great variety of technological upgrades and other functions such as the Burmester® high-end 3D surround sound system which offers a unique optical and acoustic experience and the Voice amplification that enables easier communication with the rear passengers from the front.
The market launch of the Mercedes-Maybach S-Class is scheduled for February 2015.
Source: Mercedes-Benz