2016 Peugeot 308 GTi has been finally revealed prior to its official premiere at the Goodwood Festival of Speed. The best news about it is that it will be available in the new model year in two variants, with 250hp and 270hp 1.6-litre THP S&S petrol engines. Both have been developed by PEUGEOT SPORT. The 308 GTi models can also show-off with capable chassis and Torsen limited-slip differential, which has been fitted only in the 270hp model.
The exterior stands out with two-tone paint scheme and clean lines, and of course the application of company's modern design language. On the inside, Peugeot has applied i-Cockpit cabin with sports characteristics and a lot of cool detailing.
SEE ALSO: 2015 Moving Motor Show Will Witness the Debut of Two New Peugeot Models
The powerplant is also the most efficient in its sector and has CO2 emissions of 139g/km. The fuel efficiency has been rated at 47.1mpg.
Exterior

PEUGEOT SPORT decided to make the 308 GTi a car infused with motor sports characteristics. Boasting exclusive styling front and rear, the cars are 11 millimetres closer to the ground when compared to the previous generation. At the front the engineers decided to install full LED headlamps, at the both sides of the black radiator grille with a horizontal chequered pattern and gloss-black finishing.
We also notice the same approach on the air intake, which has been surrounded by sequential LED indicators and a red detail strip. Chrome has been used on Ultimate Red cars. Below the bumper, there are two aero front spoilers.
The sides of the cars have been redesigned significantly and now feature aggressive door sills. On the other hand, at the rear there is a gloss-black section housing the twin exhaust pipes.
The 'Coupe Franche' exterior color finish is an exclusive two-tone design that has been specifically created for the GTi 270 version. It features 'Ultimate Red' colour contrasted with Nera Black. The 308 GTi is also available in the new Ultimate Red, Pearlescent White, Magnetic Blue, Nera Black, Cumulus Grey as well as the non-metallic Hurricane Grey.
Wheels & Tires

GTi 250 runs on 'Diamant' alloys shod with 225/40 R18 92W Michelin Pilot Sport 3 tires. The GTi 270 version is fitted with 19-inch 'Carbone' light-weight alloy wheels coupled with a little bit larger tires, Michelin Super Sport 235/35 R19 91Y tires. Behind them we see solid red four-piston calipers and PEUGEOT SPORT signature.
Interior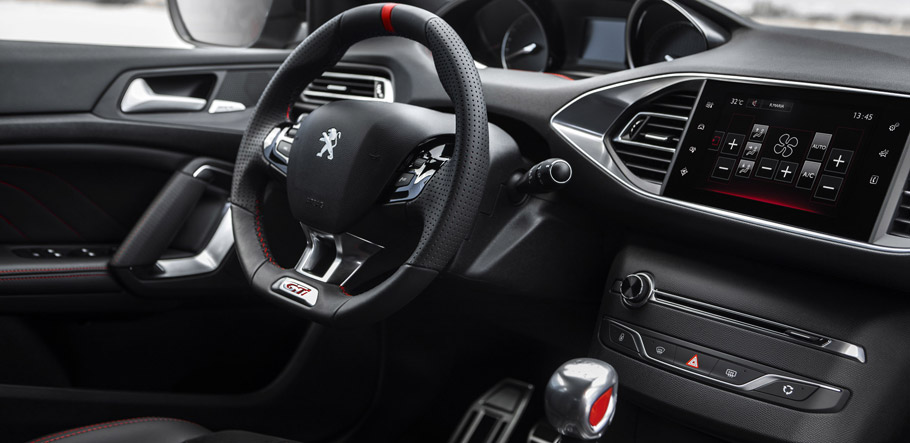 Inside, the 2016 Peugeot 308 GTi is in perfect harmony with the performance-oriented exterior. The black upholstery has been contrasted via red stitching. It can be also seen on the door panels, gear lever and floor mats. The door sill have been finished in aluminium and carry the GTi and PEUGEOT SPORT logo. Aluminium has been also used on the pedals, foot rest and gear knob.
GTi 270 is has been specifically fitted with 'bucket' seats by PEUGEOT SPORT. They feature Alcantara upholstery and are also contrasted via red stitching. The steering wheel is compact, wrapped in full-grain leather and carrying the GTi logo at the bottom and a red centring mark at the top.
Peugeot's i-Cockpit has been also applied. It features centrally-mounted, driver-facing touch-screen with great functionality, Redline theme and user-friendly approach. As an option, Peugeot has also developed a special Driver Sport Pack. Thanks to it, with just a press on the Sport button on the centre console, the display changes from white to red. It also shows additional information on the central read-out like power and torque.
Drivetrain & Braking Technology

Under the hood of the new 2016 Peugeot 308 GTi is the specifically developed by PEUGEOT SPORT 1.6-litre THP S&S engine. It comes in two variants, with outputs of 250hp (182kW) and 270hp (200kW). Both engines develop high torque of 330Nm (244 lb-ft) at just 1,900rpm and feature manual six-speed manual transmission. Both are also completely Euro 6-compliant and feature standard Stop&Start technology. This results in fantastic efficiency of 47.1mpg and CO2 emissions of just 139g/km.
The 308 GTi with 270hp can reach 62mph (100 km/h) in just 6.0 seconds, compared to 6.2 seconds for the 308 GTi 250. The top speed in both is electronically limited to 155mph.
When it comes to braking, the GTi 270 version features race-developed 380mm ventilated carbon discs in the front and the rear discs with a diameter of 268mm. Exclusive to the GTi 270 version is a the new Torsen limited-slip differential that has been incorporated into the transmission to enhance cornering traction.
Pricing
Both 2016 Peugeot 308 GTis have a starting price of £26,555 and they will be available to order soon, after they make a debut at this year's Goodwood Moving Motor Show and Festival of Speed, over 25th – 28th June.
Source: Peugeot