Would 2017 Ford Super Duty Be the Smartest and Toughest of Them All?

Ford, America's truck leader unveiled the latest and greatest 2017 Ford F-Series Super Duty. One more time the well-known manufacturer will try to best its own achievements and deliver even better machine. So, let's see what will this big guy offer to buyers.
Is it that tough?
The machine is constructed with more than 95 per cent high-strength steel that is 24 times stiffer than its predecessor. Furthermore, the latest Ford truck will also include and heavy-duty (or heavier?) four-wheel-drive system, driveline, axles and towing hardware. There will also be high-strength military-grade aluminum alloy components that will ensure that the massiveness and toughness also offer and some lightweight capabilities.
SEE ALSO: The Latest Focus RS Comes With Incredible Performance
Together, the high-strength steel and the high-strength aluminum alloy components contribute to reduce the overall weight with a total of 320 pounds. How cool is that?
Is it that smart?
The advanced machine comes and with advanced technology. First of all there are seven cameras that will help drivers to see more angles, monitor conditions and know what is exactly happening around them every single second. There is a special center high-mounted camera that provides visibility and special 360-degree camera that offers the so-called bird's eye view.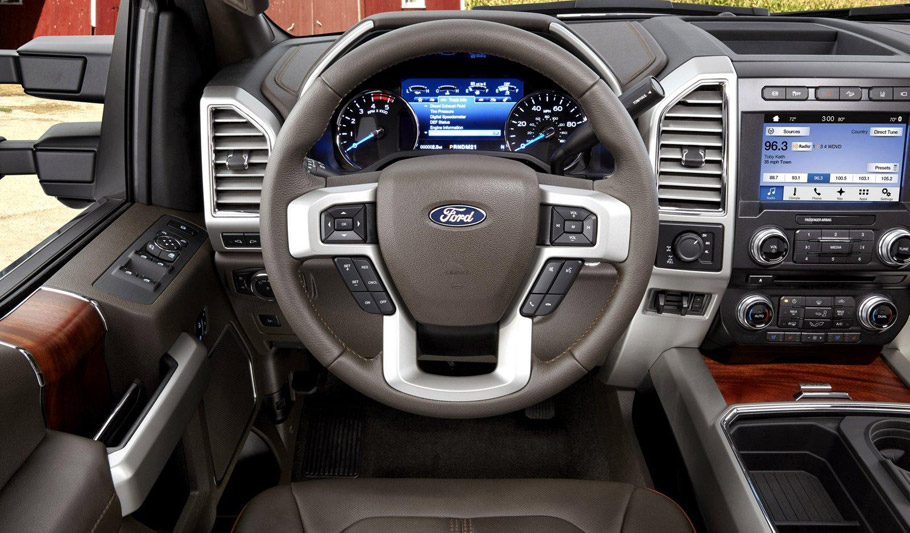 The latest Ford truck also offers Adaptive Steering system, SYNC 3 which is Ford's latest communication and entertainment system that goes along with an 8-inch touch screen, Blind Spot Information System, Lane Departure Laning, Adaptive Cruise Control and numerous more. So, it looks like this vehicle is geared with some serious hi-tech equipment. But this is not all. Additional advanced light-emitting diode technology is all around the 2017 Super Duty. This includes the new LED sideview mirror spotlights, class exclusive quad-beam LED head- and taillamps, new LED cargo box.
Is it that capable?
The Super Duty comes with second-generation Ford-designed 6.7-liter Power Stroke V8 diesel unit, paired with TorqShift-G transmission, or with the 6.2-liter V8 gasoline engine with the same transmission. The third option is the 6.8-liter V10 gasoline unit. So, it looks that Ford offers different combinations and solutions for its customers.
Interior
All the three cabs, the Regular Cab, SuperCab and Crew Cab, are longer and offer nicely done interior design including dual compartment glove box, overhead console-mounted auxiliary switches and numerous easy-to-use controls.

Furthermore, the Super Duty will be offered with a total of five trims: XL, XLT, Lariat, King Ranch and Platinum.
So, at the end you can dedice for yourself whether this machine is tough, smart and capable enough for you.
2017 Ford Super Duty goes on sale late next year.
Source: Ford