211 Horsepower Porsche Boxster Offered in Europe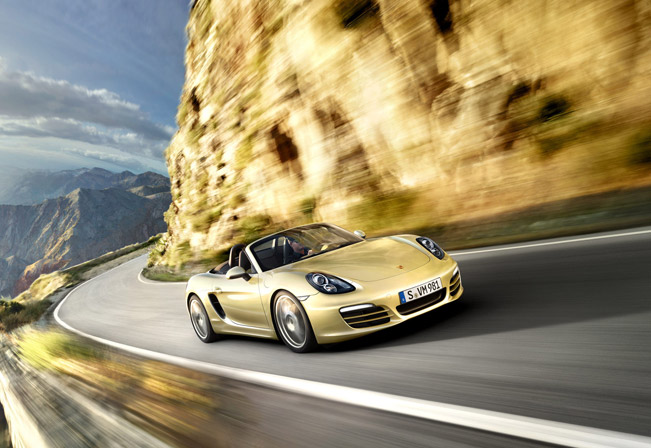 Not so regular version of the Porsche Boxster leaked through the webpage of Porsche Belgium. The car is powered not by its typical 4-cylinder engine, but by a 2.7 flat-six engine. The unit is producing 211 horsepower which equates to 155 kW. In fact, the car was unofficially unveiled on the site, because it hasn't been yet confirmed by the German manufacturer.
The official figures "speak" that with this engine the Boxter will be capable of delivering 280 Nm (206 kW) at 4500–5300. The acceleration time from 0 to 100 km/h (0-62 mph) is estimated at 6.4 seconds with manual transmission. The same time is covered in 6.1 seconds when the Porsche is equipped with the PDK automatic transmission. The top speed rated at 245 km/h (152 mph) and 243 km/h (151 mph) respectively.
Furthermore, as we can see from the site, the Boxter will have Porsche Torque Vectoring (PTV), which is an optional system for increasing dynamic performance and stability. PTV varies the distribution of torque to the rear wheels and includes a mechanically locking rear differential.
For enhanced efficiency the model is equipped with intelligent electrical system recuperation. The vehicle battery is recharged by the generator predominantly under braking. Due to this selective recharging, when the driver request full driving power the maximum possible output can be directed straight to the road.
Clear glass halogen headlights are fitted as standard on the Boxster. In addition, the Boxster S will get standard Bi-Xenon headlights. On both models, LED daytime running lights and position lights are housed in a separate auxiliary light unit above the outer air intakes. All Boxters will also come equipped with automatic headlight activation as standard.
As an option, Porsche is offering the Bi-Xenon headlights including Porsche Dynamic Light System (PDLS). PDLS comprises of Bi-Xenon headlights with halogen main-beam headlights, a head- light cleaning system and automatic dynamic range control, delivers uniform illumination of the road whether dipped or main beam is selected.
Porsche Boxster with 211 hp is still not official confirmed, but the model is already on sale in Belgium and has a starting price of 52,030 Euro (circa 67,500 USD).
Source: Porsche