Porsche Releases Boxster and 911 Carrera Black Editions

Two special cars are part of Black Edition series by Porsche: the 911 Carrera and the Boxter models. What do they feature? First to mention is the combination of black exterior and interior. The goal of the company is to highlight the timeless but straightforward elegance of the iconic cars. Both Black Editions share many things in common, but worthy of mentioning are the Porsche Communication Management (PCM) with navigation module, automatically dimming rear-view mirrors, rain sensor, cruise control and Sport Design steering wheel, which come as a standard.
Porsche 911 Carrera Black Edition
As a basis for this one is used the basic model in a coupe or cabrio variant. It is propelled by a 3.4 liter flat unit, which is capable of producing 350 hp (257 kW). Available with rear-wheel or all-wheel drive, this special edition runs on 20-inch 911 Turbo wheels. Other special features include the LED headlights combined with the Porsche Dynamic Light System Plus (PDLS+).
SEE ALSO: Exclusive: Gemballa Porsche 980 Carrera Mirage GT Black Edition
Inside, the standard equipment throughout the black interior include heated sports seats for the driver and passenger, Bose Surround Sound System, telephone module and front and rear Park Assist with reversing camera.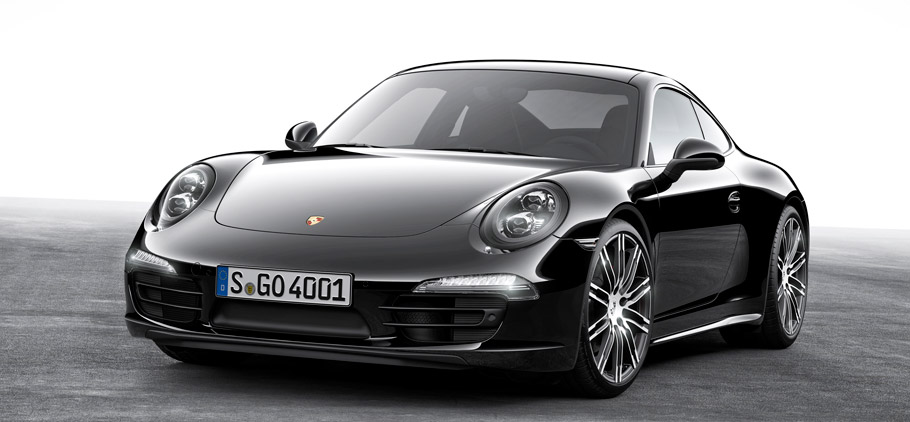 Posche Boxster Black Edition
This one is as attractive as its sibling, although it is powered by less potent 2.7 litre flat engine that produces 265 hp (195 kW). Unlike the 911 Carrera, the Boxter is offered only in a cabrio variant. And when it comes to soft top and rollover protection bar, the colour concept remains consistent.
What's exclusive for this special edition? It features wind deflector, which helps in avoiding undesirable turbulence, 20-inch Carrera Classic wheels and the bi-xenon headlights plus PDLS. Inside, the driver and passenger enjoy a two-zone air conditioning and heated seats, and a Sound Package Plus.
The Black Edition series are available for the Boxter Cabrio, 911 Carrera and 911 Carrera 4 both in coupe and convertible forms. All five are currently on sale.
Source: Porsche