24 Hours Le Mans: June 11/12, 2011
At a glance: All three Team Peugeot Total cars made it to the end, but Audi R18 LDI no.2 is the winner. The race was full of accidents and interesting moments.
"The die is cast, we are set for a magnificent duel between two great manufacturers," commented Olivier Quesnel.
"We feel that we have done a good job. But this is sport, and the outcome will now be decided out on the track," added Bruno Famin. Throughout the 24 hours of the race, the Peugeot 908s demonstrated the performance level and reliability of their cars. Twenty four hours at an incredible pace, without any let up for mechanics or the drivers, twenty four hours that held the attention of hundreds of millions of fans, TV viewers and web users.", he added.
As forecast, fine rain began to fall at around 11am. Thanks to making the right choice of tyres, Peugeot Sport engineers help Simon Pagenaud to close to within 30'' of André Lotterer.
The end of the race looked on course to be a head-to-head fight between the two men. At 14:24, both cars dived into the pit lane at the same time for a final stop. Pagenaud kept his Michelin tyres, whereas Lotterer opted to put on a new set of tyres. The two leaders came back out separated by less than ten seconds! Taking full advantage of his fresh tyres, Lotterer pulled away a little as the laps went by, and went on to clinch the win. Peugeot's three 908s finished in second (no.9), third (no.8) and fourth (no.7) positions. The Peugeot 908 HDi FAP run by Oreca rounded off the top five of one of the closest ever editions of the 24 Hours of Le Mans.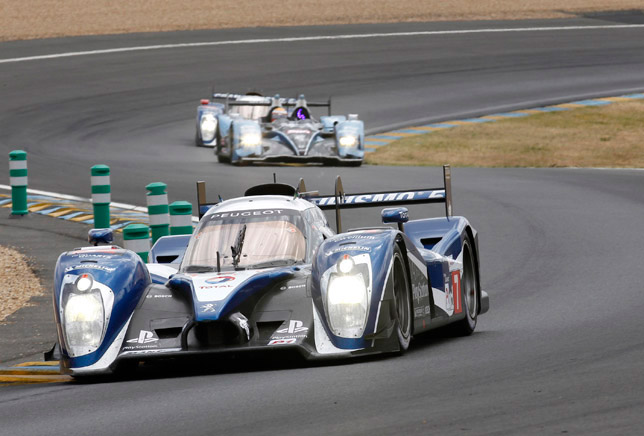 Final race positions:
1. Fassler/Lotterer/Lreluyer, Audi R18 LDI no.2, 355 laps in 24H02'21''525 2. Bourdais/Lamy/Pagenaud, Peugeot 908 N°9, + 13''854 3. Minassion/Montagny/Sarrazin, Peugeot 908 N°8, +2L 4. Davidson/Gené/Wurz, Peugeot 908 N°7, +4L 5. Duval/Lapierre/Panis, Peugeot 908 HDi FAP Oreca no.10, +16L 6. Jani/Prost/Bleekemolen, Lola Loyota no.12, +17L 7. Ickx/Martin/Leinders, Lola Aston Martin, +27L…
Intercontinental Le Mans Cup Standings:
Manufacturers: 1. Peugeot, 103 points 2. Audi, 69 points
Teams: 1. Audi Sport Team Joest, 50 points 2. Team Peugeot Total, 49 points 3. Team Oreca-Matmut, 34 points 4. Rebellion Racing, 26 points
Source: Peugeot