50-Year Limited Edition 2015 Ford Mustang at Ford Championship Weekend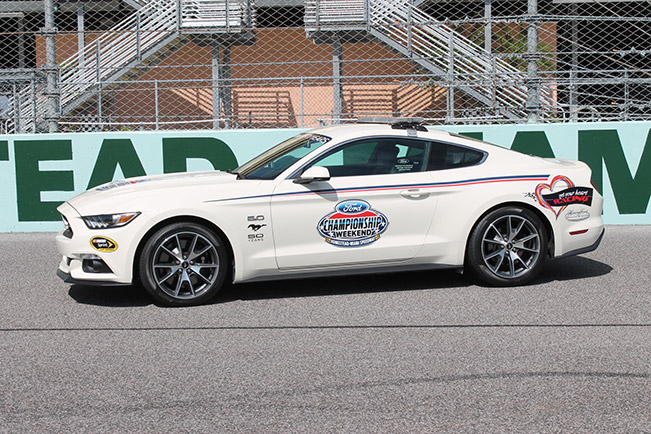 The sixth generation 2015 Ford Mustang appeared right in time for the golden anniversary celebration of the monumental pony car. The 50-Year Limited Edition 2015 Ford Mustang will serve the role as a pace car for Ford Championship weekend at Homestead-Miami Speedway, between November 14th and November 16th. This is really exciting and special because this Mustang is based on the 50-Year model which is actually limited at just 1,964 units.
Specifically, the muscle car will be powered by 5.0-liter Ti-VCT V8 engine and will lead the field to the green flag for the Ford EcoBoost 400 NASCAR Sprint Cup Series race on November 16th, 2014 and the Ford EcoBoost 300 NASCAR Nationwide Series race on November 15th, 2014. The pace car will be driven by Mark Fields, President and Chief Executive Officer of Ford Motor Company.
Furthermore, there are also going to be some other vehicles which will take part in the races. For instance, the Wimbledon White 'Stang will be joined by the Race Red Mustang GT. It gains its power from a 5.0-liter Ti-VCT V8 engine that produces 435 hp and 400 lb.-ft. of torque. Two other engines, a 3.7-liter V6 and 2.3-liter EcoBoost which generate more than 300 hp, will also be available when the car is distributed to showrooms later this year. The 2015 Mustang GT comes with a number of new features such as an all-new state-of-the-art front suspension and an independent rear suspension that is exclusively designed for this new platform and car.
Another addition will be a pair of all-new 2015 Ford F-150 pickup trucks. They will pace the NASCAR Camping World Truck Series Ford EcoBoost 200 at Homestead-Miami on November 15.
Source: Ford