Ford Starts Shipping 2015 Mustang Convertible to Dealerships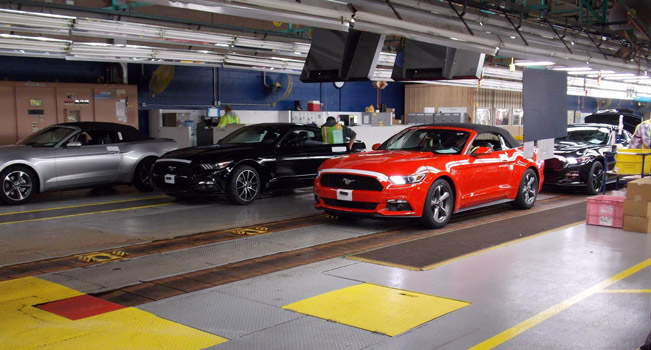 The keys of the first produced 2015 Ford Mustang Convertibles will be in customers' hands very, very soon. We are talking about those who live in United States, because the company has just began shipping the pony cabrio car to dealerships nationwide. The Mustangs will come with heated seats and remote start and selectable drive modes with a snow/wet setting. This comes exactly for winter time and cold weather, and this car is the perfect present for Christmas. In my opinion … at least.
Heated seats also have a cooling feature. But owners will have to wait until temperatures go little higher. Unlike them, the remote start is standard only on the automatic-transmission models. This feature allows customers to fire up their drop-top from the comfort of their home. When one uses the remote start, the Mustang not only warms up its engine, but also warms the interior of the car to a comfortable temperature.
There are also selectable drive modes that come as a standard on premium Mustang models. It includes a wet/snow setting. It tweaks throttle response, steering effort and traction control in order to "soften" the wheel spin and maximize vehicle control.
This year the Mustang model celebrates 50 years of its birth. Since its debut in 1964 more than 9.2 million Mustang models have been sold. Now, Ford is offering the musclecar with even more options to choose from.
The car, be it in a fastback or a convertible form, can be powered by an upgraded V8, 3.7-liter V6 or a 2.3-liter EcoBoost engine. The first one is offered only for the Mustang GT and now produces 435 horsepower (320 kW) and 542 Nm (400 lb.-ft.) of torque, while the V6 generates 300 horsepower (221 kW).
The new 2.3-liter EcoBoost engine uses direct injection, variable cam timing and a twin-scroll turbocharger to offer an output of 310 horsepower (228 kW) and 434 Nm (320 lb.-ft.) of torque. 2015 Ford Mustang is turning on dealership lots in eight days.
Source:  Ford Motor Company