ABT Audi A6
ABT are ready with their tuning package for the new Audi A6. There are several performance packages for the 3.0 TDI engine as well as 3.0 TFSI. ABT also offers a complete body kit and big rims.
ABT offers two stages for 3.0 litre V6 TDI engine. The first one boosts the engine to 282PS (207 kW), the second offers 310PS (228 kW). The mighty 3.0 TFSI is boosted to 410PS (302 kW).
"For us the A6 is an extravagant, straight-forward car, which doesn't show off yet also doesn't hide away," commented Hans-Jürgen Abt, General Manager of the company
"It is just the prefect choice for our demanding customers.", he added.
The price list is not officially announced.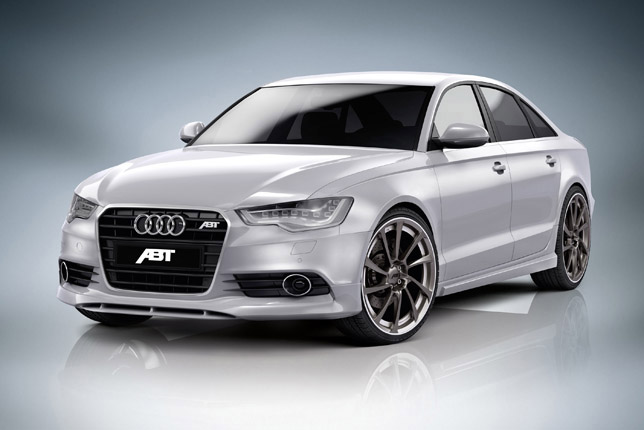 ABT Audi A6: ABT ENGINE TECHNOLOGY
Engine:                                 3.0 TDI, 2967 ccm capacity
Performance tuning:            ABT POWER
Performance:                       282 HP/207 kW (standard: 245 HP/180 kW)
ABT ENGINE TECHNOLOGY
Engine:                                 3.0 TDI, 2967 ccm capacity
Performance tuning:            ABT POWER S
Performance:                      310 HP/228 kW (standard: 245 HP/180 kW)
ABT ENGINE TECHNOLOGY
Engine:                                 3.0 TFSI, 2995 ccm capacity
Performance tuning:            ABT POWER
Performance:                       410 HP/302 kW (standard: 300 HP/221 kW)
ABT AERODYNAMICS
ABT rear skirt insert and 4-end pipes
ABT WHEEL TECHNOLOGY
ABT sport rims in 19 to 21 inch
Available also as complete set of wheels with sports tyres
Source:ABT