ABT Sportsline Enhances the Latest Audi A8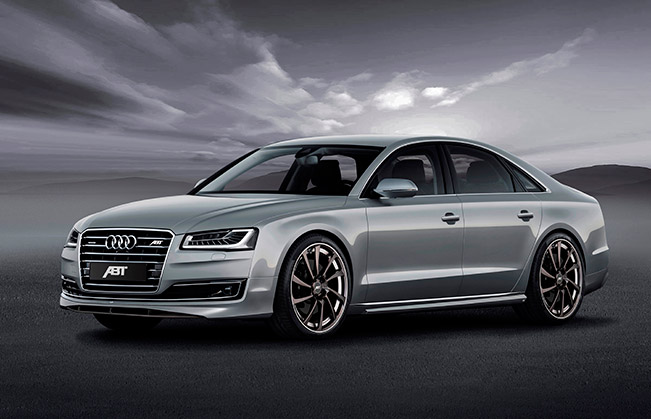 The enigmatic Audi A8 is undoubtedly a top-notch product. Nevertheless, this outstanding vehicle can obviously climb up in its range and can become a real automotive giant! This is possible with the new ABT Sportsline upgrade distributed to this Audi model. Now it impresses us with more power and more attractive styling.
Thanks to the power updates by ABT Sportsline, Audi A8s get 4.0 TFSI upgrade, which alters the initial 435 hp (320 kW) and 600 Nm of torque to no less than 540 hp (397 kW) and 720 Nm. Those who enjoy Diesel models and their 3.0 TDI now can take advantage of 300 hp (221 kW) and 640 Nm of torque instead of 258 hp (190 kW) with 580 Nm. For the crazy V8 diesel, ABT Sportsline boosts the 4.2 TDI's 385 hp (283 kW) and 850 Nm to the impressive 430 hp (316 kW) and 920 Nm of maximum torque.
Elegance and style seem to be key characteristics for the high-end limo. Therefore, the German tuning company sought for an aero package with stylistic components that convey not only elegance and style but sportiness as well. ABT Sportsline Audi A8 receives dynamically curved front spoiler which disrupts the cross-lined front. ABT Sportsline also provides the car with new side skirts which break up the static serial silhouette. As a result, they bestow on it more interesting and rough feel. The rear skirt set contributes to the spectacular look of the Audi too. Finally, the inner outlets are smaller and demonstrate a slightly different geometry than usual.
The handling of Audi A8 models is improved as well due to the integrated electronic lowering module. The ABT Level Control lowers the car by 25 mm, front and rear, which make the alloy wheels look even more magnificent. The wheel is available in 20'' and 21'' in mystic black and Gun-Metal. ER-C is another available variant in 19'' and 20''. It comes with silver bullet and Gun-Metal finishes.
Source: ABT Sportsline