AC Schnitzer BMW 3-Series Touring F31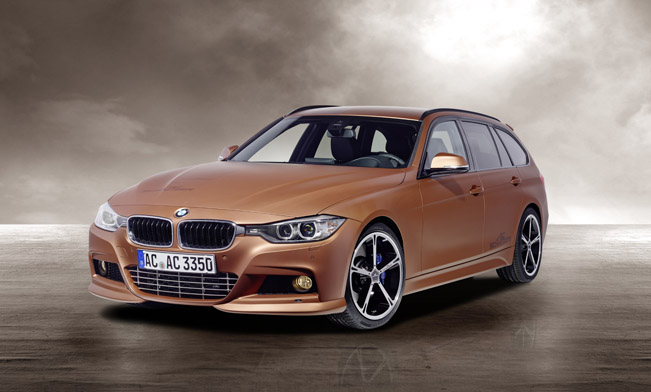 AC Schnitzer will also present tuned BMW 3-Series Touring F31 in Geneva. It also features a nice Copper paint finish as well as some other interesting upgrades making the family touring car even more exclusive.
The exterior boasts 2-piece front flippers for cars with M-Technik, rear roof spoiler and the chromed front grille. There is also a front spoiler and a rear skirt insert by AC Schnitzer. The AC Schnitzer F31 rolls Type VIII BiColor rims in black or silver in 18", 19" and 20" or AC Schnitzer Type IV BiColor black or silver also in 18", 19" and 20", as well as TypeVI BiColor rims in 18".
The interior features AC Schnitzer "Black Line" aluminium cover for the "i-Drive" system controller, the "Black Line" handbrake handle, a gear knob with digital display, a leather gear knob or an aluminium gear knob. There are also aluminium pedals, AC Schnitzer foot rests and velours floor mats.
AC Schnitzer offers tuning packages for all models starting from 316i, 328i, 335i and diesel range – 318d, 320d and 330d. The power outputs vary from 171HP (126 kW) to 360HP (265 kW).
The AC Schnitzer sport s rear silencer convinces the most demanding drivers with one or two chrome "Racing" exhaust pipes (left/right combination). For pure optical purposes the chromed "Racing" tailpipe is also separately available.
The AC Schnitzer suspension spring kit combined with a lower suspension setting of 25 mm brings the Touring closer to the ground.
Source: AC Schnitzer