AC Schnitzer BMW 5 Series Touring LCI Debuts At Essen Motor Show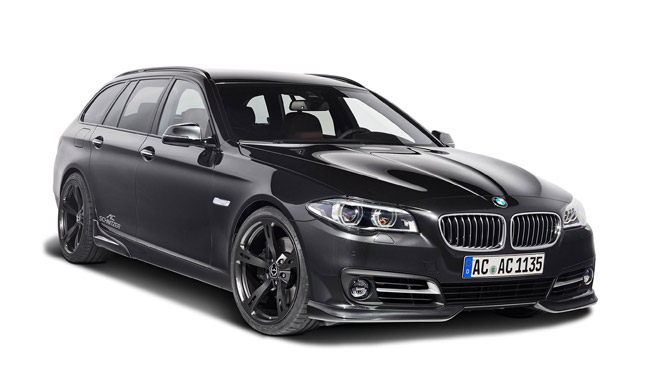 AC Schnitzer BMW 5 Series Touring LCI is celebrating its world premiere at the 2013 Essen Motor Show, which will happen between 30th and 8th of December. For this project, the tuning specialists at AC Schnitzer have developed a complete product range for the BMW 5 Series Touring model.
The enhancements include performance upgrades, exhaust systems, wheel and tyre combinations, aerodynamic bodystyling components and accessories for the interior. In addition, the tuners also offer a power boost for the diesel or petrol engines, in both rear-wheel and xDrive variants.
In fact, the enhancements in power, depending on the engine, are estimated between 34 and 94 horsepower. In addition, the sports rear silencers made of stainless steel include chromed tailpipes and deliver harmonious accent.
There are also a lot of wheel-tyre combinations offered for the 5 Series LCI series. For instance there are available alloy wheels in BiColor or silver, forged racing rims in BiColor, or a Type V forged alloys in 20".
The accessory range offered for this BMW includes a complete aerodynamic bodykit, aluminium accessories such as pedal sets and gear knobs, and velours foot mats.
Available parts for AC Schnitzer BMW 5 Series Touring LCI:
Engine:
AC Schnitzer performance upgrades

for BMW 520d with 135 kW/184 HP to 160 kW/218 HP

for BMW 525d with 160 kW/218 HP to 190 kW/258 HP

for BMW 530d with 190 kW/258 HP to 227 kW/309 HP

for BMW 535d with 230 kW/313 HP to 264 kW/360 HP

for BMW 528i with 180 kW/245 HP to 216 kW/294 HP

for BMW 535i with 225 kW/306 HP to 265 kW/360 HP

for BMW 550i with 330 kW/449 HP to 386 kW/525 HP

AC Schnitzer instrument display, expansion up to 330 km/h

AC Schnitzer engine optics

Exhaust:

AC Schnitzer sports rear silencer with 2 chromed "Sports Trim" tail trims or

the brand new, round "Sport" tail trims

AC Schnitzer "Racing" tail trims, chromed

AC Schnitzer "Sport" tail trims, chromed

Brakes:

AC Schnitzer 8-piston high performance brake system

for the front axle, consisting of:

8-piston brake calliper, left - right

brake discs, left - right (depending on the basic engine)

brake pads, set

brake calliper mounting bracket, left - right

brake pipes, left - right

(country specific)

Suspension:
AC Schnitzer spring kit, lowering approx. 25 mm
Aerodynamics:

AC Schnitzer front spoiler

AC Schnitzer side skirts

AC Schnitzer rear spoiler for saloon

AC Schnitzer rear roof spoiler

AC Schnitzer bonnet vents

AC Schnitzer rear skirt insert

AC Schnitzer rear skirt protection foil

Interior:

AC Schnitzer "Evo" sports airbag steering wheel

AC Schnitzer gear shift knob, illuminated

AC Schnitzer gear shift knob with digital shift display

AC Schnitzer aluminium gear shift knob "Black Line"

AC Schnitzer aluminium foot rest and pedals

AC Schnitzer trunk mat, velours

AC Schnitzer floor mats, velours

Wheel/Tyre sets:

AC Schnitzer Type VIII Lightweight Forged Wheels BiColor

front: 9.0 x 21" offset 26 with tyres 255/30 R 21

rear: 10 x 21" offset 37,5 with tyres 295/25 R 21

AC Schnitzer Type VIII Racing Forged Wheels BiColor

front: 9.0 x 21" offset 26 with tyres 255/30 R 21

rear: 10 x 21" offset 37,5 with tyres 295/25 R 21

AC Schnitzer Type VIII Wheels BiColor Black or Silver

front: 8.5 x 18" offset 27 with tyres 245/45 R 18

rear: 8.5 x 18" offset 23  with tyres 245/45 R 18

front: 8.5 x 19" offset 27 with tyres 245/40 R 19

rear: 8.5 x 19" offset 23 with tyres 245/40 R 19

front: 8.5 x 19" offset 27 with tyres 245/40 R 19

rear: 9.5 x 19" offset 33 with tyres 275/35 R 19

front: 8.5 x 20" offset 15 with tyres 245/35 R 20

rear: 10.0 x 20" offset 34 with tyres 285/30 R 20

front: 8.5 x 20" offset 27 with tyres 255/35 R 20

rear: 8.5 x 20" offset 23  with tyres 255/35 R 20

AC Schnitzer Type V Lightweight Forged Wheels BiColor or Anthracite

front: 9.0 x 20" offset 19 with tyres 245/35 R 20

rear: 9.0 x 20" offset 33 with tyres 285/30 R 20

AC Schnitzer Type IV Wheels Silver

front: 8.5 x 19" offset 27 with tyres 245/40 R 19

rear: 8.5 x 19" offset 23 with tyres 245/40 R 19

AC Schnitzer Type IV Wheels BiColor Black

front: 8.5 x 19" offset 27 with tyres 245/40 R 19

rear: 8.5 x 19" offset 23 with tyres 245/40 R 19

front: 8.5 x 19" offset 27 with tyres 245/40 R 19

rear: 9.5 x 19" offset 33 with tyres 275/35 R 19

front: 9.0 x 20" offset 32 with tyres 255/35 R 20

rear: 9.0 x 20" offset 32 with tyres 255/35 R 20

front: 9.0 x 20" offset 32 with tyres 245/35 R 20

rear: 10.0 x 20" offset 40 with tyres 285/30 R 20

front: 9.0 x 20" offset 32 with tyres 255/35 R 20

rear: 10.0 x 20" offset 40 with tyres 285/30 R 20
Source: AC Schnitzer