2012 AC Schnitzer MINI Cooper Coupé
What would make a MINI Cooper Coupé more sporting?  The correct answer is - tuning experts from AC Schnitzer. Yes, they are working with the aim to deliver some impressive tuning highlights for the two-seater vehicle.
First of all there are some performance upgrades included. The modifications for the MINI Cooper SD Coupé and S Coupé are currently in development and planning respectively. More importantly is that there is already guaranteed a balanced handling on the exit from tight corners thank to the AC Schnitzer limited slip differential with locking up to 75%.
Moreover the perfect dynamic driving experience is improved by the acoustic qualities of the AC Schnitzer sports rear silencer of stainless steel with chromed Racing tailpipe trim. In addition the AC Schnitzer sports exhaust system balances the complete exhaust system to the demands of higher power and tuned engines. And to make the driving even more exciting there is also featured the AC Schnitzer high performance brake system. It includes 4-piston fixed caliper brakes (left/right) with slotted discs (left/right), the set of brake pads, caliper holder and steel flexible brake lines. In order to give the MINI Cooper Coupé high performance "movement gear", the experts from AC Schnitzer have included a height-adjustable racing suspension (or the AC Schnitzer suspension spring kit), an aluminium strut brace and special antiroll bar for the rear axle.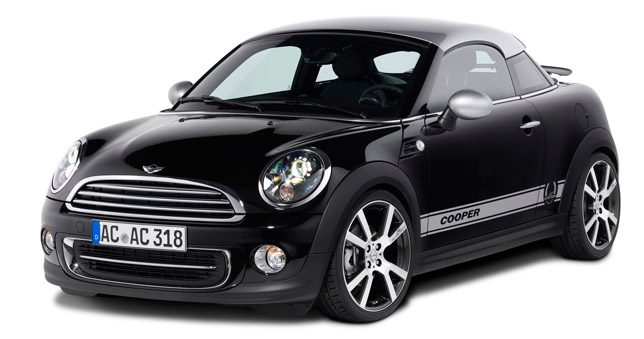 Of course AC Schnitzer hasn't forgotten how important the outer look is for the MINI. Hence, there is an AC Schnitzer decor set available in various designs, together with the rear "Technology & Design"sticker. Not forgetting the interior too, the MINI Cooper Coupé by AC Schnitzer can be enhanced by the AC Schnitzer gear knob with digital gear display, aluminium pedal set, foot rests, "Black Line" handbrake handle and velours foot mats. Furthermore a sporting stance on the road is provided by the AC Schnitzer Mi2 BiColor wheels in 18 inch or the Mi 1 silver wheels in 17 inch with corresponding tyres. At last this sporting car features the impressive chromed AC Schnitzer exhaust trim, which makes the final touch to the overall look of the MINI.
Source: AC Schnitzer