Alfa Romeo 4C - 8:04 Nurburgring Lap Time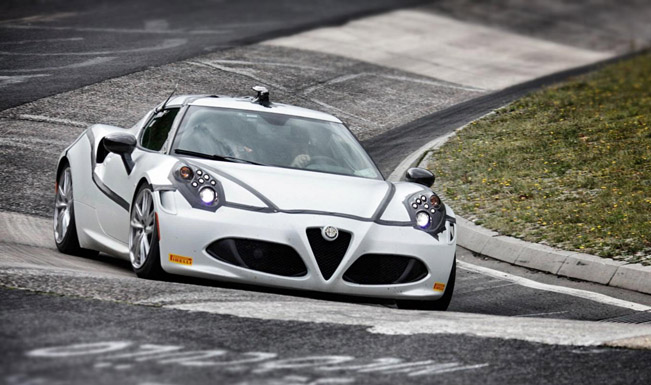 Alfa Romeo has confirmed the Nurburgring lap time of 4C. The small sports car manage to cross the finish line in 8 minutes and 4 seconds. For example BMW M3 E92 with 420HP has a time of 8 minutes and 5 seconds and Renault Megane RS Trophy in 8:07 (which is a new record for a FWD car).
Behind the steering wheel was Horst von Saurma who proved on September 12 the Alfa Romeo 4C is the faster car with less than 250HP to lap the Nurburgring.
2013 Alfa Romeo 4C is powered by a 1.8 liter turbocharged petrol with 240HP (177 kW) at 6,000RPM and 350Nm (258 lb-ft) at 2,000RPM of torque. The engine is connected to a dual-clutch transmission. 0-100 km/h in 4.5 seconds and a top speed of 258 km/h (160 mph). It will average 6.8 liters / 100 km (41.5 mpg UK) with CO2 emissions of 157 g/km. All these figures are thanks to the super-low weight of 4C – just 895kg (1973 lb).
It is equipped with Pirelli "AR" P Zero Trofeo tires which were specially developed for this model over the course of less than a year. They are available in two size combinations – 17" front and 18" rear or 18" front and 19" rear.
Source: Alfa Romeo