Alpine-White Hamann Mi5Sion based on BMW F10 M5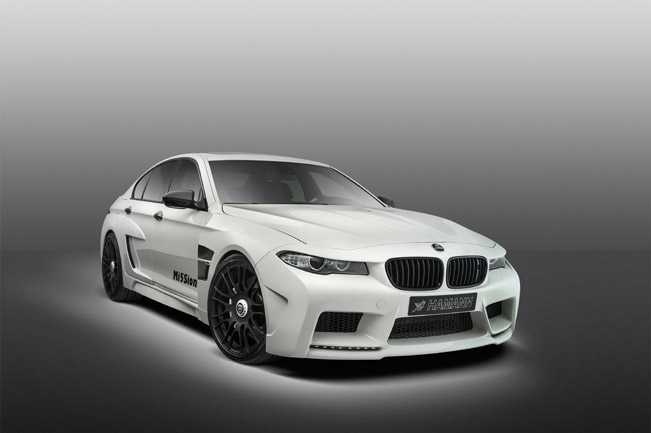 Hamann has introduced their tuning package for the BMW F10 M5. The 5th generation of the M5 has grown up but is more conservative. Now, HAMANN turns on the tap again. "Mi5Sion" makes no compromises, and the top-notch racer finally looks how he always was meant to look.
The exterior boasts a complete aerodynamics package from carbon fiber including roof spoiler, wings, side skirts and door fixtures. The wide body kit adds 30mm on both sides, along with a new rear apron, custom wheels, front LEDs and a built-in diffuser with two stainless steel tailpipes on both sides of the rear silencer.
Hamann Mi5Sion rolls a set of 21" forged wheels fitted with 265 mm front and 305 mm rear tires. The wheels fit perfectly into their housings since the sport suspension brings the HAMANN M5 35 mm closer to the asphalt.
The leather in the cockpit presents itself with the same alpine-white as the Mi5Sion's exterior paint. A special highlight is the carbon embossing, which flawlessly fits with the exterior design. The pedals including footrest and door sill trim are made of aluminium and don't lack on sporty looks either.
The power coming from the 4.4 liter twin-turbocharged V8 is not changed – 560HP (412 kW) and 680Nm (502 lb-ft) of toque. 0-100 km/h in 4.4 seconds and a top speed of 305 km/h (190 mph).
Source: Hamann