BMW F10 M5 Police Car exhibited in Munich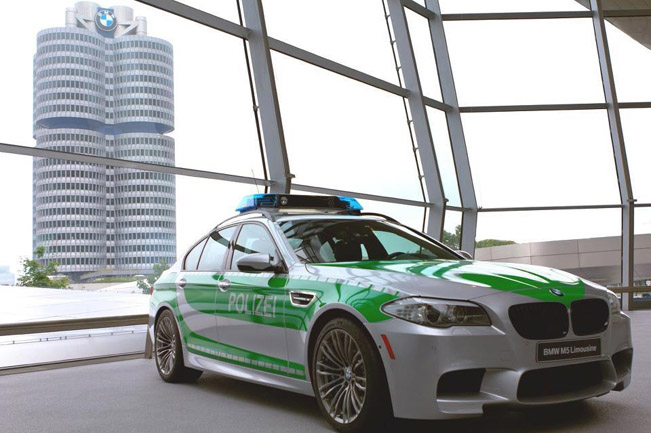 BMW has unveiled a special edition of the new 5-Series F10 M5. The Police Car model is exhibited at the Welt Museum in Munich, Germany. It looks exactly like a cop car - traditional livery, a black grille and a light bar.
However, this is just a prototype and luckily for street racers, the police won't use this car ... for now!
Everything else remains unchanged – a 4.4-liter twin-turbo V8 with 560HP (412 kW) and 680Nm (502 lb-ft). The gearbox is 7-speed M Double Clutch Transmission. 0-100 km/h in 4.4 seconds, 0-200 km/h in 13 seconds and top speed of 250 km/h (155 mph) electronically limited and 305 km/h (190 mph) with M Driver's Package.
The fuel consumption is 9.9 liters/100 km on combined cycle (28.5 mpg) and CO2 emissions of 232 g/km.
The Active M Differential optimizes power transfer between the rear wheels ensuring the engine's performance is transferred to the ground.
Obviously, this is perfect car for highway chases.
Source: BMW