Racing is in Aston Martin's blood. The Proof: the Newest Vantage GT8! [w/video]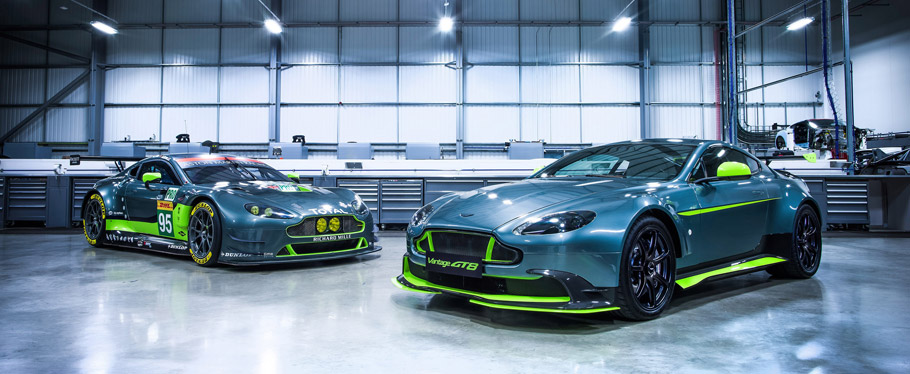 Aston Martin Vantage GT8 is hell of a car! With racing heritage behind its back, the GT8 possess sporting DNA but it is dedicated to the road. With the focus put on the weight savings and aerodynamics, the V8 Vantage has been taken to entirely different level of agility and sports attitude.
The road-racer has been inspired by the MY2016 Aston Martin V8 Vantage GTE race car. This is the reason why, the Vantage GT8's dramatically sculpted carbon fibre bodywork has race-bred aerodynamic shape and functions with this in "mind". In addition, its chassis is super-sharp and is tuned as a racing car.
SEE ALSO: Aston Martin Gears V12 Vantage S With Manual Gearbox And Tons of Goodies!
Furthermore, Aston Martin Racing's WEC contender has served as an inspiration for the wide-bodied aerodynamics. As mentioned the body kit includes wide amount of carbon fiber. Namely it has been utilized for the front splitter, front and rear bumpers, fenders, side sills and rear diffuser. A particular highlight is the cutaway front wheelarch, which mimics that of the GTE racer.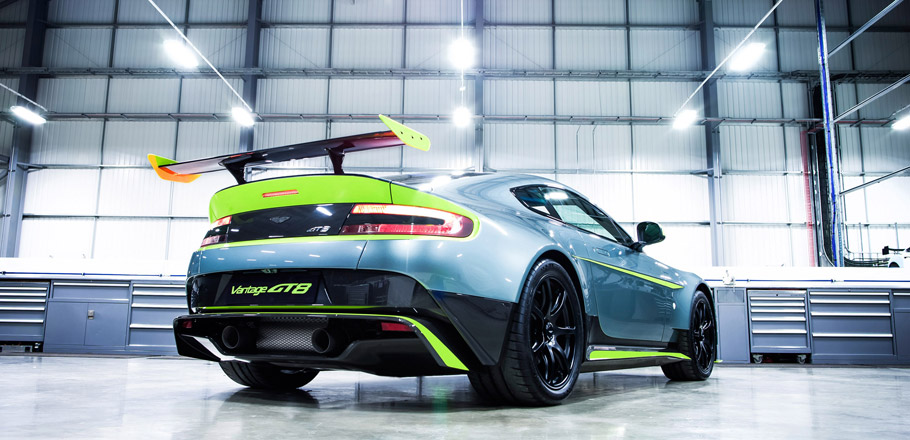 But there is more to that. Those who want to have the most extreme aero configuration can specify the optional Aero Pack, which includes large rear wing and additional corner elements to the front splitter.
Under the hood, there is the revised 4.7-litre V8 mated to either a six-speed manual or seven-speed SportshiftTM II paddle-shift transmissions, and rated at 446PS.
Other goodies beneficial for the Vantage GT8 are the 5-spoke alloy wheel, or the optional lightweight seven-spoke centre-lock magnesium rims. The Michelin Pilot Sport Cup 2 tyres come as a standard. In terms of exterior, there are three optional 'Halo' paint schemes; striking combinations of China Grey and Blue, Stratus White and Green or Stirling Green and Lime that perfectly express the dynamic character and performance of the Vantage GT8.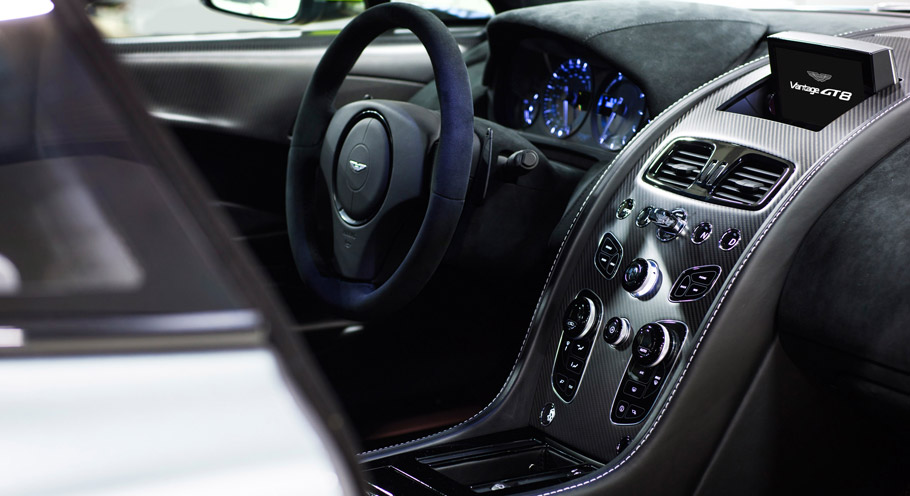 In the beginning we have mentioned that the improved performance is due to significant amount of weight saving. They were achieved not only through the aero pack, but also with the help of a standard-fit lithium ion battery, the carbon fibre roof, polycarbonate rear screen and rear side windows, the titanium centre mounted exhaust, the  lightweight carbon fibre sports seats and carbon fibre door panels. These measures save more than 100kg, making the Vantage GT8 the lightest Vantage ever.
At last, the Aston Martin Vantage GT8 will be very appealing to collectors when it comes out on the market. It will be produced in only 150 examples, each having a starting price of at least £165,000.
Video Source: YouTube
Source: Aston Martin