Aston Martin

DB12

(

2024

)
Aston Martin DB12
Aston Martin is thrilled to introduce the brand-new DB12. This next-gen member of the iconic DB lineage sets a whole new standard in athleticism and dynamic prowess, carving out its own unique category. Fusing an exhilarating driving experience with unparalleled elegance, cutting-edge technology, and luxurious indulgence, the DB12 demands a fresh definition. Being merely grand doesn't cut it anymore; this is the world's first-ever Super Tourer.
The DB12 embarks on a daring new path, making it the most accomplished and well-rounded DB model in Aston Martin's history. Endowed with extraordinary performance and handling to satisfy even the most discerning drivers, its painstakingly refined chassis seamlessly partners with a top-of-the-line 680PS/800NM V8 Twin-Turbo powertrain. The result is a reinvigorated Aston Martin that radiates authenticity, capability, and a profound passion, delivering an unrivaled driving experience.
Designed to maximize performance and intensify emotions, the DB12 is the fruit of a holistic approach. It begins with significant enhancements in structural rigidity and culminates with Michelin Pilot Sport 5 S tires custom-crafted to Aston Martin's meticulous specifications. Supported by an all-new suspension system boasting state-of-the-art adaptive dampers, the connection and control are further amplified by an exquisitely precise and direct Electronic Power Assisted Steering (EPAS) system and an Electronic Rear Differential (E-Diff) that heightens agility, bringing the DB12 to life on the most dynamic of roads.
Backed by an industry-leading Electronic Stability Control (ESC) system that leverages six-axis inertia measurement to anticipate available grip, the DB12 also grants the driver the freedom to choose from five pre-set driving modes, enabling incremental exploration of the limits of grip and traction with absolute confidence and safety. In simple terms, no other Aston Martin in series production has devoted itself so completely to setting new benchmarks in dynamics.
The announcement of the DB12 coincides with Aston Martin's celebration of two momentous milestones in 2023: its monumental 110th anniversary and 75 years of the illustrious DB model lineage. When Lionel Martin and Robert Bamford founded the partnership that birthed Aston Martin, they ignited over a century of automotive passion, cutting-edge British innovation, and high-octane racing triumphs. This comes at a time when Aston Martin is experiencing one of the most dynamic periods in its 110-year history, thanks to its continued success on the Formula 1® podium in the 2023 season. Competing at the apex of global motorsport remains a fundamental pillar of the brand's strategy.
The core values of high-performance and ultra-luxury embodied by the DB12 are spearheading Aston Martin's next generation of sports cars, heralding a new era. From now on, all Aston Martin models will be characterized by prodigious performance, pinpoint dynamics, seamless integration of advanced technologies, and the sublime style and exquisite craftsmanship that have long defined the brand.
Roberto Fedeli, Group Chief Technology Officer of Aston Martin, expressed his thoughts on the new DB12, stating, "DB12 is a car that makes a statement. It firmly establishes Aston Martin as a leader in performance, dynamics, engineering, and technology. We have pushed every aspect of this car to achieve excellence. The outcome is more power and performance than its competitors, accompanied by exceptional handling and an exhilarating soundtrack. It is a car with a passionate and genuinely sporty character. Crucially, we have achieved all this without compromising refinement, comfort, and luxury. Alongside our employment of industry-leading dynamic control and infotainment systems, the DB12 signifies the beginning of Aston Martin's most thrilling new era."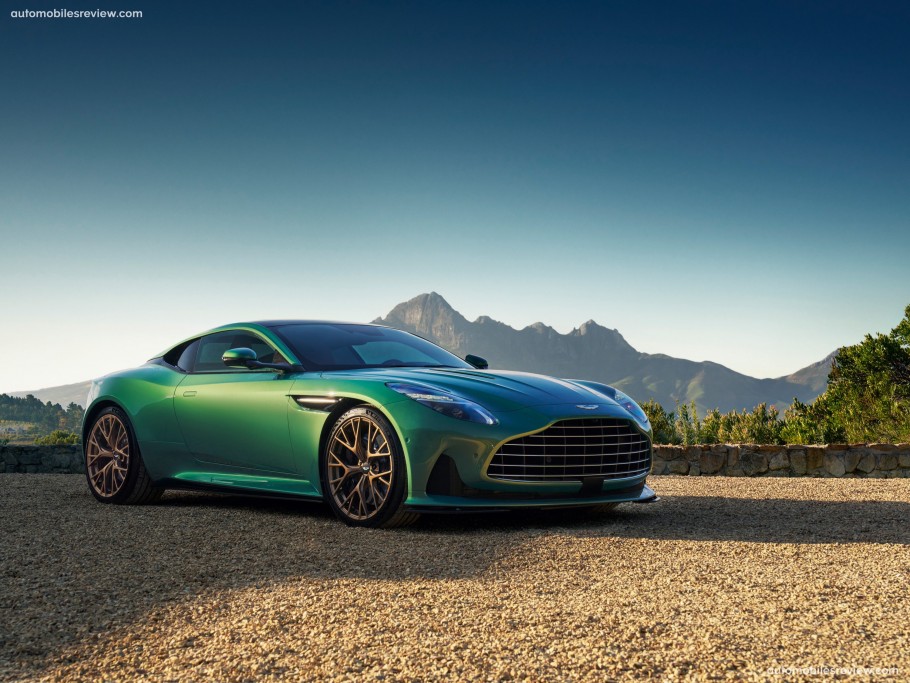 Performance
DB12 doesn't hold back; it makes a bold and unequivocal statement. It exudes the confidence of a car that sprints from 0 to 60mph in a mere 3.5 seconds, reaches a top speed of 202mph, and boasts unparalleled power from its 4.0 Twin-Turbo V8 engine. This extraordinary engine, meticulously crafted by Aston Martin engineers, unleashes an industry-leading 680PS/671bhp at 6000rpm and 800Nm/590lb ft of torque between 2750-6000rpm—an impressive 34% increase compared to its predecessor, the DB11.
To achieve these heightened performance outputs, various enhancements have been made. The cam profiles have been modified, compression ratios optimized, turbochargers enlarged, and cooling capacity increased. The entire cooling system has undergone a complete redesign, with two additional auxiliary coolers added to the central main radiator to meet the elevated thermal demands. To ensure the engine maintains desired intake air temperatures under all conditions, a supplementary low-temperature radiator has been integrated into the charge cooler water circuit.
Furthermore, the auxiliary outboard engine oil cooler now boasts more than twice the surface area of its predecessor, effectively managing the lubrication circuit's requirements. Optimal cooling has been further achieved by enhancing thermal airflow, increasing the open apertures by 56% to allow a greater influx of cold air into the radiators. Additionally, centrally positioned bonnet vents situated above the twin turbos facilitate the escape of hot air.
Handling and dynamics 
Power is transmitted through an 8-speed automatic gearbox, accompanied by a first-time inclusion on an Aston Martin DB model: the Electronic Rear Differential (E-Diff). Unlike a traditional Limited Slip Differential, the E-Diff is linked to the car's Electronic Stability Control (ESC) system. It can swiftly transition from fully open to 100% locked, providing the driver with immediate response and precise, consistent handling.
Working seamlessly with the latest generation ESC system, the E-Diff significantly enhances the DB12's cornering capabilities under any circumstances. In low to medium-speed corners, the DB12 exhibits impressive agility and responsiveness, truly coming alive on demanding roads with exceptional front-end grip and remarkable traction. Moreover, the DB12 maintains complete composure in high-speed corners, instilling the driver with a sense of confidence and control.
To enhance driver engagement and intensify performance, the DB12 incorporates a revised Final Drive Ratio (3.083:1), which results in punchier acceleration during gear shifts. Additionally, a unique transmission shift calibration reduces shift speeds and provides distinct shift characteristics tailored to the DB12's diverse range of dynamic modes.
The DB12's bonded aluminum structure has undergone enhancements, resulting in a 7% increase in global torsional stiffness. This improvement stems from modifications to various underbody components, such as the engine cross brace, front and rear undertrays, front crossmember, and rear bulkhead. As a result, torsional rigidity and lateral stiffness have been refined, particularly between the front and rear strut towers. This strengthens the attachment points for the dampers and rear axle, leading to improved suspension performance, isolation, refinement, on and off-center steering feel, and an overall heightened sense of driver connection.
With the introduction of new-generation intelligent adaptive dampers and meticulous engineering of key elements like stiffer anti-roll bars, the DB12 boasts class-leading driving dynamics and a significantly expanded range of capabilities.
These cutting-edge dampers possess a 500% increase in force distribution bandwidth, offering a vast improvement that allows for greater control and refinement across the DB12's various drive modes. By leveraging this expanded scope, Aston Martin's vehicle attribute engineers have pushed the DB12's character well beyond that of its class rivals.
Thoughtful calibration of the dampers enables the gradual introduction of heightened response and tighter body control as the dynamic modes are cycled through. The suspension bushings have been meticulously tuned to deliver exceptional refinement and isolation. Combined with the E-Diff and ESC system, this means that in GT mode, the DB12 retains a luxurious ride quality for sublime and agile cruising. In Sport and Sport+ modes, the DB12's responsiveness is intensified, and body control is tightened, enveloping the driver in a more compact driving experience, allowing the car to truly come alive on challenging roads like never before.
As the primary point of interaction between the car and the driver, considerable attention has been dedicated to perfecting the DB12's Electronic Power Assisted Steering system (EPAS). The process begins with the installation of a non-isolated steering column, enhancing the dynamic feel by preserving the purity and uncorrupted nature of steering inputs from the driver and feedback from the road.
The calibration of the EPAS focuses on providing a balanced on-center feel along with a swift and natural rate of response. Care has been taken to avoid exaggerated or overly aggressive steering responses, resulting in an intuitive and confidence-inspiring feel in the DB12. This allows the driver to relax during long journeys while still being able to enjoy the car's precision, responsiveness, and agility when attacking corners.
To maintain consistency and enhance driver connection, the EPAS features a constant 13.09:1 ratio rack with variable, speed-sensitive assistance and 2.4 turns lock-to-lock. The level of assistance is dynamically adjusted based on the DB12's drive mode programs, gradually reducing as the car moves towards the most aggressive mode (Sport+).
To match its impressive speed, the DB12 is equipped with standard cast-iron 400mm front discs and 360mm rear discs. These discs have grooved and drilled faces to improve thermal capacity. The brake booster has also been fine-tuned to provide better pedal feedback, instilling greater confidence in the driver with a firm pedal feel and immediate stopping power combined with progressive response.
Emphasizing its Super Tourer credentials, the DB12 offers an optional Carbon Ceramic Brake (CCB) system. The CCB option provides enhanced braking performance and reduced brake fade even at high temperatures of up to 800°C. By choosing the CCB, the car benefits from a weight reduction of 27kg in unsprung mass compared to the standard braking system. This reduction contributes to improved ride quality and steering response.
As a testament to its commitment to the DB12's Super Tourer nature, Aston Martin has partnered with Michelin to introduce the new Michelin Pilot Sport 5 S tires, specifically designed for this model. The front tires are sized 275/35 R21 103Y, while the rear tires are 315/30 R21 108Y. These tires are not off-the-shelf versions but feature bespoke compounds and tuning by the Aston Martin dynamics team. They offer exceptional reactivity for precise steering, along with maximum grip in both wet and dry conditions.
The Pilot Sport 5 S tires also incorporate noise-cancelling polyurethane foam inserts in their construction, reducing tire noise transmitted to the car's interior by 20%. This results in lower noise levels, improved refinement, and enhanced driver comfort.
The DB12 comes standard with 21-inch forged alloy wheels, with a front size of 9.5J and a rear size of 10.5J. There are three design options available: the standard Five-Spoke, and the optional Multi-Spoke and Y-Spoke. These wheels come in various colors and finishes, including Gloss Silver, Satin Platinum, Satin Black, Satin Black Diamond Turned, Satin Bronze, and Satin Black Diamond Turned. Aston Martin has optimized the structure of these lightweight wheels to maximize performance without compromising aesthetics, using advanced simulation techniques to remove excess mass. As a result, these wheels are 8kg lighter than the previous 20" offerings.
Driver centricity
The DB12 is equipped with an industry-leading Electronic Stability Programme (ESP) system designed to provide the driver with optimal dynamic support without feeling overly restrictive. The system offers four pre-defined ESP modes: Wet, On, Track, and Off, which can be selected via the ESP button on the center console. These modes are seamlessly integrated to deliver progressive control while avoiding abrupt interventions.
The ESP system utilizes information from various sensors positioned around the vehicle, including the advanced six-axis inertia measurement unit. This unit collects complex accelerometer data in real-time, enabling the system to build a precise picture of the car's behavior. Using advanced algorithms, the ESP system predicts the available grip level and reacts to momentary instabilities.
The goal of this sophisticated system is to operate discreetly in the background, allowing the driver to extract the best performance from the car while maintaining a high level of safety. The same predictive and model-based technology is applied to all the car's chassis control systems, including ABS, Traction Control, and Lateral dynamics, resulting in an unprecedented integration that enhances driver confidence and enjoyment.
In addition to the multi-mode ESP, the DB12 offers five pre-defined drive modes: GT, Sport, Sport+, Wet, and Individual. Each mode progressively adjusts the car's dynamic behavior, with increasing freedom for the driver to explore the limits of grip and traction. Wet mode enhances stability on low-grip surfaces, while Individual mode allows precise customization of the vehicle systems according to the driver's preferences, including chassis, powertrain, ESP, and traction control settings.
The drive modes can be selected using a knurled rotary controller on the center console, enabling quick and easy cycling through the five pre-sets. Additionally, individual override buttons for the chassis, ESP, and exhaust are located on the center console, allowing the driver to prioritize their preferred settings and override the default drive mode settings.
Exterior
The DB12 boasts a bold and confident exterior design that embodies power and potency. Aston Martin's impeccable style is showcased in the car's design, integrating 75 years of DB heritage and featuring proportions that set it apart as the world's first super tourer. With its athletic physique, measured aggression, and unparalleled elegance, the DB12 commands attention on the road.
The front-end of the DB12 has been redesigned to reflect its increased power, featuring a larger radiator aperture and a reshaped splitter. The new Light Emitting Diode (LED) headlights with a distinctive Daytime Running Lamp (DRL) signature and intricate surface detailing further enhance the car's presence. The wider track, increased by 6mm at the front and 22mm at the rear, emphasizes the DB12's wide-track stance. Standard-fit 21-inch forged alloy wheels complete the look, while the iconic Aston Martin wings badge takes its place proudly on the nose of the car. The DB12 is the first sports car to showcase the new wings design. The addition of smaller, frameless wing mirrors improves both aesthetics and aerodynamics. The car's exterior design also features welcome door handles to facilitate entry.
Marek Reichman, Executive Vice President and Chief Creative Officer of Aston Martin, describes the DB12 as the epitome of a Super Tourer, combining comfort, speed, refinement, handling, dynamics, powertrain, sense of space, and styling into a remarkable driving experience. The car intuitively understands the driver's desires and effortlessly delivers the optimal combination of performance and control at any given moment. The DB12 represents a new breed of Super Tourer, blending speed, performance, and the thrill of open-road driving with safety and command.
Inside, the DB12 offers a completely redesigned interior with clean horizontal lines that create a sense of space. The cabin provides the perfect contemporary backdrop for the new state-of-the-art infotainment system. The design is emphatically fresh while unmistakably Aston Martin, representing the brand's progression into the future.
For customers who seek to personalize their DB12, Aston Martin offers the Q by Aston Martin personalization service. This service allows customers to embark on a unique commissioning journey, from small distinguishing details to fully bespoke components. The Q design team and craftspeople provide endless possibilities to create a truly one-of-a-kind DB12 that reflects individual style and preferences.
Interior
The DB12's interior is a luxurious haven that combines modern opulence with Aston Martin's bespoke infotainment system and cutting-edge connected technology. Crafted with a blend of contemporary design, classic craftsmanship, and premium materials, it provides a stylish and sumptuous space for both the driver and passengers. The driver-centric cockpit seamlessly integrates everyday technologies with luxury materials, ensuring maximum comfort and engagement. The cabin features elegant details, exquisite trim, and ergonomic controls that enhance the driving experience.
Craftsmanship is a hallmark of Aston Martin, and the DB12 upholds this tradition with swaths of hand-stitched Bridge of Weir hides that exude comfort and luxury. The new quilting pattern, available in full leather or Alcantara®, adds a unique character and exquisite detailing to the interior.
Aston Martin introduces its next-generation in-house infotainment system in the DB12, a fully integrated multi-screen system with 10.25-inch high-resolution touchscreens. The system supports wireless Apple CarPlay™ and Android Auto™*, providing a seamless connectivity experience. To strike a balance between touch controls and tactile feedback, the DB12 retains physical buttons for key operations such as gear selection and heating, offering a blend of digital and analogue controls. Override switches for chassis, ESP, exhaust, Lane Assist, and Park Distance Control ensure convenient access to frequently used features.
The DB12's navigation system offers online connectivity for a smarter and more informative experience. Drivers can search for their favorite restaurants, read reviews, and set them as destinations through the Aston Martin App or the car's navigation system. The 3D mapping with lane guidance and real-time traffic overlays ensures intuitive and efficient routing, while satellite view provides detailed visualizations of the surroundings.
Central to the DB12's infotainment system is online connectivity and the Aston Martin App, enabling communication and interaction with the car. Online connectivity allows for Over The Air (OTA) updates and diagnostics, enhancing ease of use and peace of mind. The Aston Martin App, available on iOS and Android, provides seamless control, feedback, and personalized content specific to the vehicle. Customers can monitor, locate, and protect their DB12, access navigation features, manage their account details, and engage with the Aston Martin community through integrated media feeds.
To enhance the ownership experience, Aston Martin offers three connected car subscription packages, free for the first three years. These subscriptions provide additional benefits and are tied to the vehicle, even if it is re-purchased through the Timeless approved pre-owned sale program. The connected car ecosystem is powered by the DB12, the Aston Martin App, and Aston Martin's secure data servers, connected through global 4G LTE / GSM cellular networks.
In summary, the DB12's interior offers a blend of luxury, technology, and craftsmanship, with Aston Martin's bespoke infotainment system and connected features enhancing the driving experience. The Aston Martin App provides seamless control and interaction with the car, while the connected car subscriptions offer additional benefits and peace of mind to owners.
The connected subscriptions and features are as-follows:
Convenience
Connected Navigation / Theft Alert / Voice Assistant / Geofence Alert
Vehicle Management
Locate / Identify / Protect / Speed Alert / Trip Data / Vehicle Status / Remote Lock / Unlock
Vehicle Services
Emergency Call / Breakdown Call / Aston Martin Concierge / Privacy Mode / Over The Air Updates / Subscriptions / Diagnostics
For those seeking even more personalization and enhanced features, an optional Advantage subscription is available for DB12 owners. This subscription offers additional customization options, interaction capabilities, and functional benefits. Starting with a Stolen Vehicle Tracker, Advantage allows owners to expand and enrich their ownership experience with a portfolio of additional features and subscription services.
Aston Martin's commitment to excellence extends to the audio experience in the DB12. As standard, the car comes with the Aston Martin 390w 11 speaker audio system. This advanced system utilizes QuantumLogic® sound processing and offers a surround sound mode, delivering an audio performance that perfectly complements the DB12.
To satisfy the discerning ears of audiophiles, Aston Martin has collaborated with renowned audio partner Bowers & Wilkins to develop an optional bespoke surround sound system. Drawing on the technology and innovation found in Bowers & Wilkins' world-class hi-fi systems, this 15-speaker, double-amplified 1,170W surround sound system is acoustically engineered to deliver an exceptional listening experience tailored to the DB12's interior volume and shape.
Featuring high-performance loudspeakers such as Aluminium Double Dome tweeters and Continuum® midrange speakers, along with dedicated 3D headline speakers and a powerful subwoofer, this system ensures a balanced and accurate sound reproduction. The speaker positions have been carefully optimized for perfect location, direction, and symmetry within the DB12's structure, resulting from close collaboration between Aston Martin and Bowers & Wilkins' engineers.
The seamless integration of the audio system's design ensures that it looks as impressive as it sounds. The stainless steel speaker grilles, available in finishes that match the interior jewelry of the DB12, feature perforations designed for both optimal acoustics and striking aesthetics.
Amedeo Felisa, Chief Executive Officer of Aston Martin, expressed his enthusiasm for the DB12, stating, "With the new DB12, we are reinvigorating the DB model line and reasserting Aston Martin as a maker of truly exceptional performance sports cars. By combining class-leading performance and exceptional chassis dynamics with cutting-edge technology, impeccable craftsmanship, and immaculate design, DB12 leads Aston Martin into a new era of excellence."
The DB12 is set to begin its first deliveries in the third quarter of 2023, marking a new category of its own and setting the bar for performance, driving excitement, ultra-luxury, and style. It transcends the traditional GT concept and proudly claims the title of The World's First Super Tourer.
DB12 TECHNICAL SPECIFICATION
Body                          
Two Door Body Style with 2+2 Seating Extruded Bonded Aluminium Body Structure with Composite Panels Deployable spoiler with Aston Martin Aeroblade system
Engine                                   
4.0-litre V8 Twin Turbo Water-to-air-charge cooling Front mid mounted engine, rear wheel drive Maximum power: 680PS / 671bhp / 500kw @ 6,000rpm Maximum torque: 800Nm / 590 lb-ft @ 2,750 – 6,000rpm Top speed: 202mph / 325km/h 0-60mph: 3.5s 0-62mph / 0-100km/h: 3.6s Compression ratio: 8.6 Dual Variable Camshaft Timing Fully CNC machined combustion chambers
Transmission                        
Rear mounted eight-speed automatic transmission Torque converter Electronic rear limited slip differential Carbon fibre prop shaft
Gear ratios
| | | | | | |
| --- | --- | --- | --- | --- | --- |
| 1st Gear Ratio: | 4.714 | 2nd Gear Ratio: | 3.143 | 3rd Gear Ratio: | 2.106 |
| 4th Gear Ratio: | 1.667 | 5th Gear Ratio: | 1.285 | 6th Gear Ratio: | 1 |
| 7th Gear Ratio: | 0.839 | 8th Gear Ratio: | 0.667 | Final Drive: | 3.083 |
Steering                                 
Variable Electrical Power Assistance Steering ratio: 13.09.1 Turns lock to lock: 2.375
Suspension                           
Front-Independent Double Wishbone, Coil Springs & Anti-Roll Bar Rear - Multi-link Suspension, with Coil Springs & Anti-Roll Bar Adaptive Damping System (ADS) with Skyhook Technology & Intelligent Adaptive Dampers
Drive Modes                          
Five selectable drive modes: Wet, GT, Sport, Sports Plus and Individual (Tailoring Drivetrain, Steering and Chassis calibrations)
Advanced Driver Assistance Systems (ADAS)                               
Forward Collision Warning Autonomous Emergency Braking Adaptive Cruise control with Stop & Go function Lane Departure Warning Lane Keep Assist Auto High Beam Traffic Sign Recognition Blind Spot Monitoring Door Open Assist Rear Cross Traffic Assist Driver Drowsiness Detection (Coffee Cup) 360? 3D Surround Camera view
Wheels and Tyres                 
21" Wheels Michelin Pilot Sport 5 S Front: 275/35/ZR21 Rear: 325/30/ZR21 Bespoke Summer Tyres - designed specifically for DB12 Bespoke Winter Tyres – designed specifically for DB12
Brakes & Chassis Systems  
Steel Brake System
Front: 400mm x 36mm 6-piston Caliper
Rear: 360mm x 36mm with a 4-piston Caliper
Carbon Ceramic Brake System
Front: 410mm x 38mm Carbon Ceramic Disc
Rear: 360mm x 38mm Carbon Ceramic Disc
Electric Park Brake
Dynamic Stability Control (DSC) Anti-lock braking system (ABS) Electronic Brake Distribution (EBD) Emergency Brake Assist (EBA) Traction Control (TC) Hydraulic Brake Assist (HBA) Positive Torque Control (PTC) Dynamic Torque Vectoring (DTV)
Dimensions
Height: 1,295 mm Width (including mirrors): 2,145 mm Width (mirrors folded): 2,060 mm Length: 4, 725 mm Wheelbase: 2,805 mm Ground Clearance: 120 mm Front Overhang: 925 mm Rear Overhang: 995 mm Approach Angle: 10.1 ° Approach Angle: (with lower body packs): 10 ° Departure Angle: 20.5 ° Boot Volume: 262 litres Fuel Tank: 78 litres Weight : 1685kg *dry weight Weight Distribution (Front:Rear): 48: 52 Turning Circle: 12.4 m
DESIGN
Standard Specification (Exterior)     
Paint - Solid Lower Body Package – Body Colour Upper Body Package – Body Colour 21" Five Spoke Wheel - Satin Silver Grille – Satin Chrome Vaned Brake Calipers – Dark Grey Anodised Brake Discs – Steel Brake System Tail Lights - Red Roof Panel - Body Coloured Badging – Enamel Wings Badge with Green Infill Clear Glass
Standard Specification (Interior)      
Interior Trim – Create – Haircell Leather Seating – Comfort Seat Trim Split – Monotone Stitch – Matched Brogue – Matched Seatback – Leather Headlining – Black Alcantara Carpet – Black 600GSM Seat Technology - Seat Heating IP and Door Trim inlay – Gloss Black Centre Trim Inlay – Gloss Black Interior Jewellery – Satin Chrome Steering Wheel - Sports - Colour Keyed Leather Seatbelt - Black Audio – Aston Martin Audio
Optional Features (Exterior) 
Paint
Metallic
Signature metallic
Racing Line
Q – Satin
Q – Special
Q – Heritage
Lower Body Package
Gloss Black
Gloss 2x2 Twill Carbon Fibre
Upper Body Package
Gloss Black
Gloss 2x2 Twill Carbon Fibre
Privacy Glass2
Brake Calipers – Painted:
Black3
Red
Silver
Yellow
Bronze
New Aston Martin Racing Green
Roof Panel
Gloss Black Painted
Gloss 2x2 Twill Carbon Fibre
Tail Lights
21" Wheels
Multi Spoke Wheel – Satin Platinum
Multi Spoke Wheel – Satin Black
Multi Spoke Wheel – Satin Black Diamond Turned
Y Spoke Wheel – Satin Bronze
Y Spoke Wheel – Satin Black
Y Spoke Wheel – Satin Black Diamond Turned
Badging
Black Chrome Wings Badges
Optional Features (Interior)              
Seating
Sports Plus Seat
Carbon Fibre Performance Seat
Interior Trim
Accelerate – Haircell Leather & Alcantara
Inspire – Semi Aniline Leather
Inspire Sport – Semi Aniline Leather & Alcantara
Trim Split
Seat Technology
Seat Ventilation
16- way Seat Adjustment
Seatback - Matched to Door Trim Inlay
Headlining
Coloured Alcantara
Leather – Matched to Environment
Carpet
Trim Inlay
Light Brushed Aluminium
Dark Brushed Aluminium
Light Ash Open Pore Wood
Dark Walnut Open Pore Wood
Satin 2x2 Twill Carbon Fibre7
Jewellery
Steering Wheel
Heated and Colour Keyed Sports Wheel
Seatbelts – Core Palette
Audio
Personalisation
Heavy pile floor mats
Garage Door Opener