Audi A4 earns five stars in the Euro NCAP crash test
After testing the new Audi A4 for passive crash safety, the Euro NCAP consortium awarded the vehicle five stars, the highest rating possible. The results achieved by the new Audi A4 for adult protection in frontal and side crashes as well as child and pedestrian protection make it one of the safest vehicles in its class.The mid-sized model from the brand with the four rings was put to the test for passive vehicle safety by Euro NCAP. The consortium, consisting of international representatives from European ministries of transport, automotive clubs, insurance companies and consumer protection agencies, comprehensively examined the crash performance of new vehicles.
The Euro NCAP's demanding test requirements substantially exceed the guidelines stipulated by European lawmakers. The data collected on the A4 for driver and passenger safety in frontal and side crashes earned the vehicle five stars, the best rating possible. The Audi A4 offers good protection for children as well: the test results for child safety are also high, with four stars earned.
Founded in 1997, the Euro NCAP consortium conducts crash tests with all of the important vehicles on the European market. It seeks to systematically improve safety in traffic, thus protecting the lives of all road users.
Audi regards providing partner protection for pedestrians and cyclists as an important task. A vehicle front end designed specifically to comply with this safety philosophy helps to mitigate consequences in the event of an accident. This development is rewarded with two of four possible stars in the Euro NCAP test.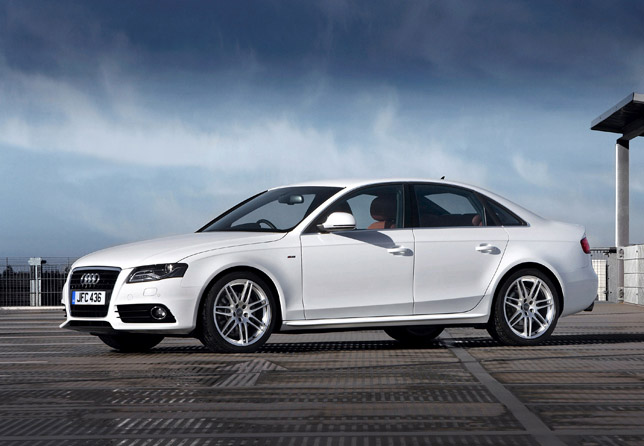 Audi attaches even greater importance to the key issue of active safety in accident prevention. A high-performance, standard ESP brake system with brake assist was therefore one of the main requirements specifications in the development of the new Audi A4, and helps the A4 to achieve excellent results in independent comparative tests.  In addition, customers can benefit from a wide range of optional driver assistance system previously available only in luxury-class automobiles. These include a radar-supported adaptive cruise control system with Audi braking guard that actively warns the driver in several stages of an impending collision, Audi lane assist and Audi side assist.