Audi A9 Concept Called Prologue Leaks Before Official Reveal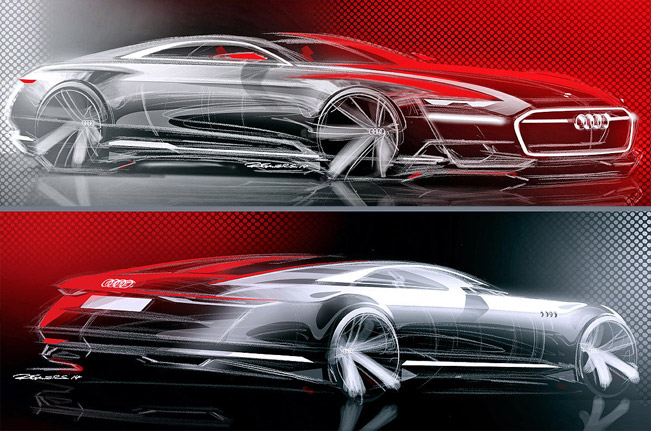 The first design sketches of the Audi A9 Concept have leaked unofficially online, before the premiere of the car at the 2014 Los Angeles Auto Show. It will be called Prologue Concept, this beautiful car designed by Marc Lichte measures length of 5.10 meters, 1.95m width and 1.39m hight. This study is dedicated to the new big time for Audi and it also carries the appropriate name. It redefines company's future design language.
Prologue will be based on the MLB Evo platform.  In terms of design it will feature Audi's emblematic single-frame grille, distinctive LED lights up front and rear tail lights with 3D effect.
In fact, the front looks flatter than ever before, while the edges look more alive and carry a few more lines. The rear is rather unusual and is more of an interpretation of the coupe concept. Note that the C-pillars are extremely out wide and far. There are envisioned unconventional air intakes in the front.
Although the car is binging about a concept for the future of Audi, we are to see the Prologue in 2016 at the earliest. Reports also say that this car will be a preview of company's future flagship.
According to previous information, it will be driven by a 4-liter V8 with tuinturbo engine producing 600 hp (441 kW). The concept car will be fully unveiled on 18th of November at the first press day of the Los Angeles Auto Show. Stay tuned!
Source: Audi via Autobild.de