Audi starts production of new Audi A4 in India
Audi is continuing to make its mark on the Indian automobile market. The company today announced the start of local assembly of the new Audi A4. "The successful model, which was launched on the Indian market in July this year, is the second Audi model to be produced at the Group plant in Aurangabad after the Audi A6. By 2015 we will have built a total of some 11,000 Audi A4 and 7,000 Audi A6 models in India, while investing over €30 million in our Indian production site," said Frank Dreves, Member of the Board of Management for Production at AUDI AG.
"India is one of the most important future growth markets for Audi. Compared with last year, our vehicle sales in the first eight months of this year grew by over 190 percent to some 700 units," stated Peter Schwarzenbauer, Member of the Board of Management for Marketing and Sales at AUDI AG. "We are in a great position to establish the Audi A4 successfully in the long term on the Indian market. We are also making excellent process with our dealer network, which is currently being expanded to twelve locations."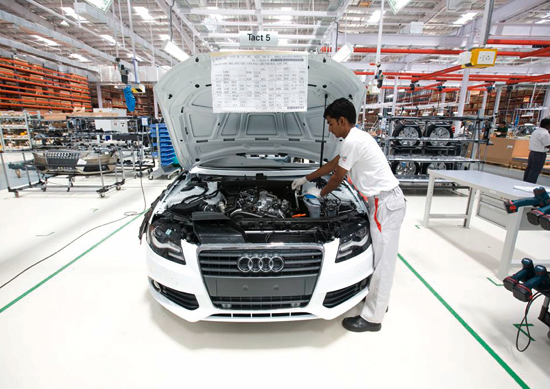 50 employees work in CKD (Completely Knocked Down) production, which takes place in an exclusive part of the Group plant in Aurangabad. Assembly is in accordance with the worldwide quality standards of AUDI AG. Cutting-edge technology and highly skilled employees are the key to efficient production: the Indian team has been intensively prepared for their jobs with extensive training at the Audi plant in Neckarsulm (Germany) in the following areas: production, electronics, logistics and quality.
"The outstanding infrastructure at the plant, highly developed working processes, a large pool of skilled workers and favorable logistical conditions combined with our Audi philosophy of "Vorsprung durch Technik" have resulted in Audi A4 CKD production starting two months ahead of schedule," said Frank Dreves, Member of the Board of Management for Production at AUDI AG.
By 2015 Audi plans to have built a total of over 18,000 cars in Aurangabad, around 11,000 of which will be Audi A4 models. In 2009, the first full year of production, 640 Audi A4 sedans will be assembled in a single-shift operation, as will 380 Audi A6 models.
Audi aims to sell 1,000 units of the whole model range this year, 3,000 units per year by 2010 and 10,000 units per year by 2015. The Audi A4 will be the key contributor in achieving these targets.
AUDI AG sold a total of 964,151 cars in 2007 and thus achieved its twelfth consecutive record year. With revenue of €33,617 million and profit before tax of €2,915 million, the company attained its best figures ever. Audi produces vehicles in Ingolstadt and Neckarsulm (Germany), Györ (Hungary), Changchun (China) and Brussels (Belgium). At the end of 2007, production of the Audi A6 started in Aurangabad, India. The company is active in more than 100 markets worldwide. AUDI AG's wholly owned subsidiaries include Automobili Lamborghini Holding S.p.A. in Sant'Agata Bolognese (Italy) and quattro GmbH in Neckarsulm. Audi currently employs around 57,000 people worldwide, including 45,000 in Germany. The brand with the four rings invests more than €2 billion each year in order to sustain the company's technological lead embodied in its "Vorsprung durch Technik" slogan. Audi plans to significantly increase the number of models in its portfolio by 2015 to 40.
In 2007 Audi India, based in Mumbai, commenced its business activities. The Audi model range in India includes the Audi A8, Audi Q7, Audi A6, Audi A4 and Audi TT.
Authorized Dealers with Showrooms:
Audi Bangalore
Audi Chandigarh
Audi Delhi
Audi Gurgaon
Audi Hyderabad
Audi Pune
Audi Mumbai
Authorized Dealer Sales Offices:
Audi Ahmedabad
Audi Chennai
Audi Kochi
Audi Kolkata
Audi Ludhiana