Audi Unveils 2014 R18 e-tron quattro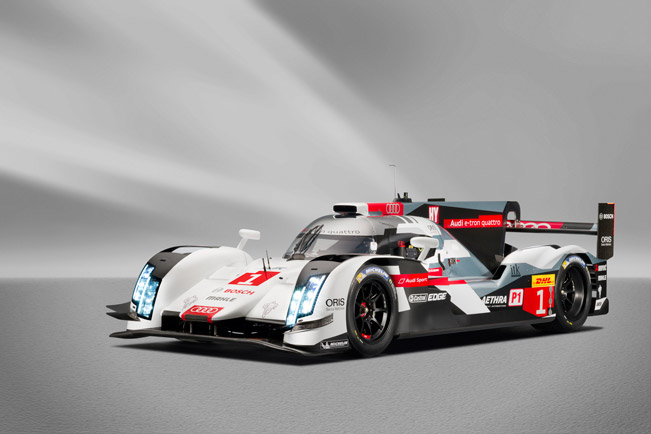 The new 2014 WEC season began for Audi with spectacular appearance. The brand has just unveiled the updated Audi R18 e-tron quattro not only rolling on the Le Mans legendary race track, but also on public traffic. Tom Kristensen, who holds nine victories and who is a record holder of the Le Mans 24 Hours, drove the diesel hybrid sports car from the Saint-Julien du Mans cathedral in the city centre to the famous race track.
Audi's newly livered LMP1 race car completed the ten kilometer distance through the city in a motorcade, did a lap on the Circuit Bugatti and eventually arrived in front of the race track's center. The new colour scheme of the vehicle now has white, silver, red and black, and also features fresh and expressive graphics.
These colours are symbolic: silver emphasizes the past success in racing and is used as a base for the livery; white harmonises with the former color and stands for the hybrid drive, being utilized asymmetrically in order to highlight the complexity of the powertrain technology; black is used for the front and rear wings, as well as on sections of the fenders and sides with highly defined geometric contours, and this contrasting color stands for light-weight design; at last, red is Audi's performance colour.
The graphics featured include Audi's logos and inscriptions. They have longitudinal orientation and express the speed that is also emblematic for Le Mans. Red color is also included in the rims, and due to the wheel rotation, it also achieves a very dynamic effect.
2014 Audi R18 e-tron quattro is equipped with a V6 TDI power plant, which was increased from 3.7 to 4 litres, thus additionally optimizing the efficient engine. The energy flows through a motor generator unit (MGU) at the front axle and is stored in a flywheel energy storage system.
The new race car provides the optimum balance between efficiency, size, weight, energy conversion efficiency, responsiveness, drivability and durability. It is expected to participate in the official test of the FIA World Endurance Championship (WEC) at Le Castellet in France on 28th and 29th of March.
Source: Audi