Bentley Mulsanne Speed – A New Definition Of Fastest And Most Luxurious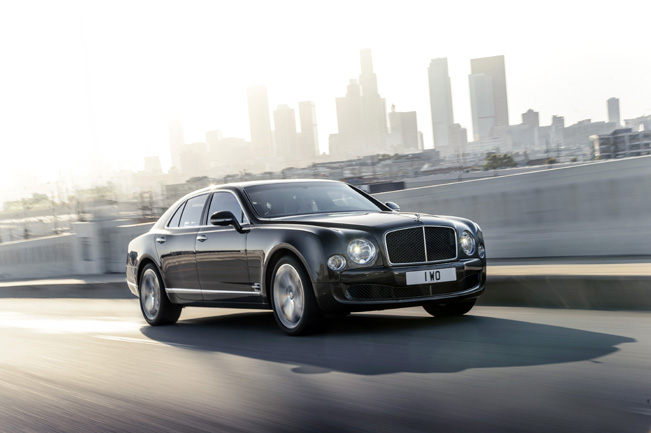 The fastest, most luxurious car in its sector is here. The all-new Bentley Mulsanne Speed.
Bentley's iconic 6¾-litre twin-turbo V8 engine, reinvented for the Mulsanne Speed as well as the signature Mulsanne. A brand new combustion system (including combustion chamber, inlet ports, fuel injectors, spark plugs, and compression ratio) enhances  a much faster and more controlled combustion process.Torque output of the engine has reached new records, as high  as – 1,100 Nm (811 lb.ft) from 1,750 rpm. The power is 537 PS / 530 bhp  (395 kW) at 4200 rpm. As far as for transmission, you can get your Bentley with an automatic gearbox, torque converter, rear-wheel drive. With the suspension and steering the Mulsanne has double wishbone, anti-roll bar in the front layout, and at rear layout consists of multi link rear suspension with toe and brake reaction control.
An innovatively new peak power output of 537 PS, enough to reach a top speed of 190 mph (305 km/h).This Bentley reaches from 0-60 mph (0‑100 km/h) in 4.8 seconds, taking  4.9 seconds. The luxurious ride reaches the breathtaking top speed of 190 mph (305 km/h).
The fuel consumption in city is 12.4 mpg (22.8 litres/100 km) (12 US mpg), and for highway it is 28.4 mpg (9.9 litres/100 km) (19 US mpg) with a combined of 19.3 mpg (14.6 litres/100 km) (14 US mpg). With a 13 % improvement with the current Bentley Mulsanne the CO2 Emissions are 342 g/km (efficiency class G), with a extended fuel range by 50 miles (80 km) with a fuel tank capacity of 96 litres (21.12 gallons UK) (25.36 US gallons).
If you are looking for top luxury, than this Mulsanne is a must! The interior is just astonishing. The driver interface as sophisticated as it can get with an 8" high-res screen, central Multi Media Interface (MMI) controller. The sound system consists of the amazing 14-speakers, 2x sub woofers, 8-channel DSP, iPod/MP3 connection, DAB or SDARS radio, 6-disc CD changer, DVD drive, 2x SD card readers, micro-USB, opt. 2200W 20-speaker Naim system. There is also telephone system, Bluetooth wireless connectivity, privacy handset along with an on board storage of 60 GB hard disc with 20 GB of personal storage space.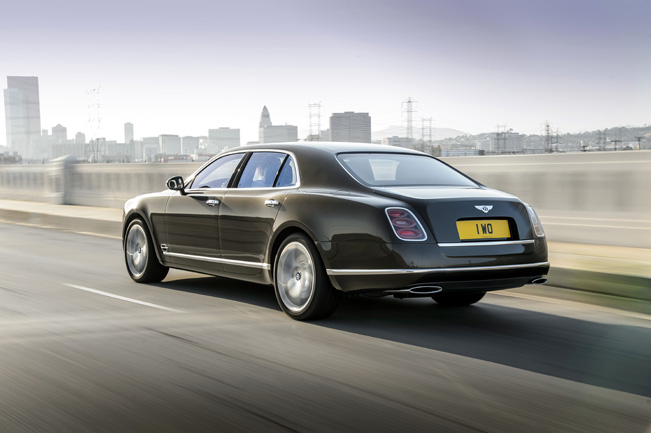 The front side of the interior is equipped with power-adjustable front (12-way) and rear (8-way) seats with Heating and memory functions. Optional seat ventilation and massage make the driver's and the front passenger's ride a lot more comfortable and easier. Driver & front passenger air bags, front/rear head & thorax airbags provide as much safety as a luxury car of this level can offer.
Moreover, here are additional features available in the Mulsanne Speed, some of which are: Tyre-pressure monitoring, Key less entry & ignition, power door-latching and boot, Park Distance Control. Optional: rear-view camera, TV tuner, Naim premium audio, rear-seat entertainment.
Pricing for the new Bentley Mulsanne Speed in Europe goes exactly for €272,200. For the UK -£252,200. And for the USA we are looking at precisely about $335,600.
The new Bentley Mulsanne Speed will be unveiled at the Paris Motor Show on Thursday 2nd October, and customers will be able to order it for delivery this winter.
Source: Bentley