The Black Mamba: 2012 Fox Marketing Lexus IS F Twin Turbo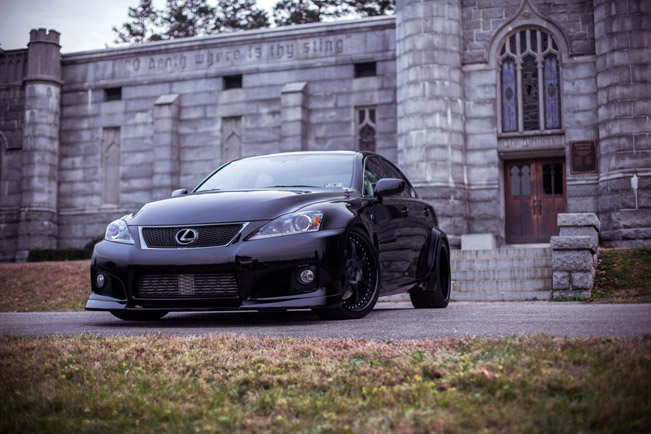 2012 Fox Marketing Lexus IS F Twin Turbo is a vehicle which will definitely catch your attention at least with its powerful stance and the character it exudes. Called by the tuning company the Black Mamba, this special Lexus was made according to the smallest details the customer wanted.
First of all dual wastegates with dunk tubes were added and they can be spotted hanging down in the center. Next, full sheet metal fender flares and plastic welded rear bumper - side skirts, deliver more quality, better look and feel.
The powerful stance of the vehicle is reinforced by Alpine White bolts on the iForged Performance Alloy Wheels in size 20x9. They come however only for the front. At the rear can be spotted the iForged Performance Alloys in size 20x11.5. Both front and rear wheels are perfectly matched with with 305/30/20 T1R Toyo Tires.
The tuners had taken care for the rear taillight, which now is "smoked" with Basf Refinish R-M Oynx HD Waterborne Black paint in R-M 5335 clear. At the same time, at the front – the lip there brings the look together of the IS F together.
In addition, in this tuning Fox Marketing has added an intercooler, rear wheel and custom arches, new headlights with daytime running lights and Turbonetics Turbochargers.
The interior was also customized and here you can see that it is in clear Alpine White. All that it is left is to see this Beauty rolling down the streets. And if you're lucky, this might be your street.
Source: Fox Marketing via Facebook