BMW 2 Series Convertible - a new beginning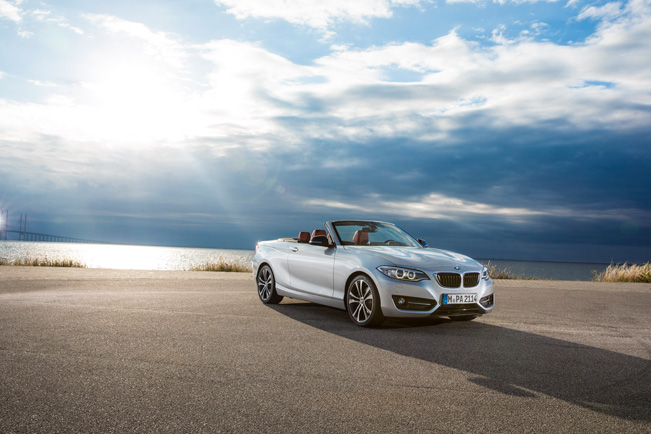 This is the first BMW 2 Series Convertible. A perfect combination of sportiness and open air feeling in the premium compact class. It is a typical BMW convertible. The flat shoulder profile combines at the athletic appeal of the BMW 2 Series Coupe with an elegant appearance.
The front is well known from the BMW 2 Series Coupe and of course it's a typical BMW. At first look, you notice the three-dimensional kidney grill which is augmented by the slender bar around the frame and the double round headlights. Taking a look at the astounding rear of the vehicle, you notice the horizontal lines, in combination with the tail lights and the low rear end.
Safety and design can coexist together, that shows us the fully-integrated roll-over protection. The dynamic shape of the engine hood gives the car a distinct forward orientation. The belt line runs almost parallel to the road and makes the care look longer. This appearance is supported by the almost horizontal trunk lid which creates an elegant silhouette.
The interior boasts with high refinement with high gloss center stack and the chrome elements around the air grill. BMW "ConnectedDrive" allows online entertainment, with instant access to over 22 million songs, its almost impossible not to find one's favorite song. This car offers a huge driver system package to make your driving even safer along with the usual intelligence services and apps.
BMW presents an optimized "Efficient Dynamics" engine. The new diesel generation is stronger and high performance brake system. For instance here are some of the models' characteristics:
The BMW 220d Convertible: It delivers 140 kW (190 hp) at 4,000 rpm with max. Torque of 400 Nm (296 lb.-ft.) at  1,750 – 2,500 rpm. This model reaches from 0 to 100 km/h (62 mp/h) in 7.5 seconds, automatic: 7.4 seconds. Average fuel consumption is 4.7 – 4.4 (4.4 – 4.1) litres/100 kilometers and 60.1– 64.2 (64.2–68.9) mpg imp. The ride's top speed is 225 km/h (140 mph).
At the top of sportiness is BMW M235i Convertible: With its 240 kW (326 hp) at 5,800 – 6,000 rpm, max. torque of 450 Nm (332 lb.-ft.) at 1,300 – 4,500 rpm. With a top speed of 250 km/h  (155 mp/h), the car reaches 0 – 100 km/h (62 mp/h) in 5.2 seconds and, if automatic: 5.0 seconds. The average fuel consumption is 8.5 (7.9) litres /100 kilometers / 33.2 (35.8) mpg imp.
Another model is the BMW 228i Convertible: Four-cylinder in-line petrol engine and High Precision Direct Injection, its capacity output is 180 kW(245 hp) at 5,000 – 6,500 rpm with max. torque: 350 Nm  (258 lb.-ft.) at 1,250 – 4,800 rpm. Average fuel consumption is 6.8 (6.6) litres/100 kilometers and 41.5 (42.8) mpg imp. A top speed of 250 km/h  (155 mp/h), it accelerates from 0 to 100 km/h (62 mp/h) in 6.1 seconds (automatic: 6.0 seconds).
The BMW 220i Convertible's capacity is 135 kW (184 hp) at 5,000 – 6,250 rpm; max. Torque is 270 Nm (199 lb.-ft.) at 1,250 – 4,500 rpm.Accelerates from 0 to 100 km/h (62 mp/h) in 7.5 seconds if the gear box is automatic: in 7.6 seconds. top speed reaches 231 km/h  (143 mp/h).Average fuel consumption is about 6.8 – 6.5 (6.4 – 6.2) litres/100 kilometers and 41.5 – 43.5 (44.1–45.6 ) mpg imp.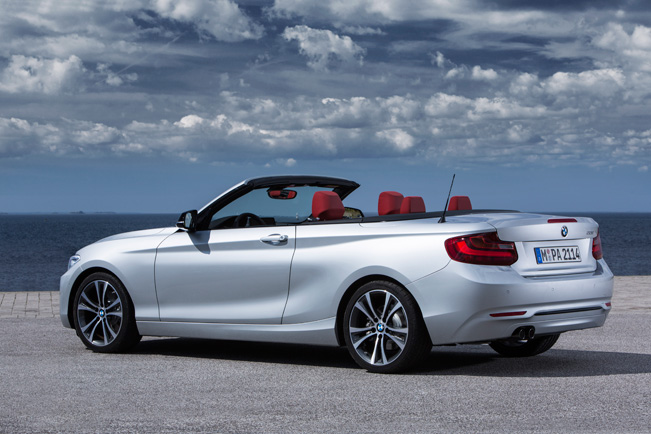 Some of the BMW 2 Series Convertible models can be equipped with "BMW X drive". For the first time a four-wheel-drive is now available for convertible of the premium compact class.An acoustics, folding roof top which reduces noise can be opened or closed is 20 seconds while driving at 50 km/h (30 mp/h).
The trunk volume with opened roof, you get about 280 liters (74 gallons) of space and with a closed roof 335 liters (88 gallons). Another function is the optimized through loading function, with width of 45 cm. you are able to transport even larger objects.
The BMW 2 Convertible is for sure the most dynamic in its area. Prepare for a nice driving pleasure, and fantastic design and option to individualize your car.
The new BMW 2-Series Convertible is expected to hit the market in February, 2015. The pricing starts from $38,850 for the 228i model in the US and goes up to $48,650 for the top-of-range M235i.
On the UK market, the entry level model is 220i starting from  £29,180 and the M235i will be £37,710.
Source: BMW