BMW 3-Series F30 M Performance Edition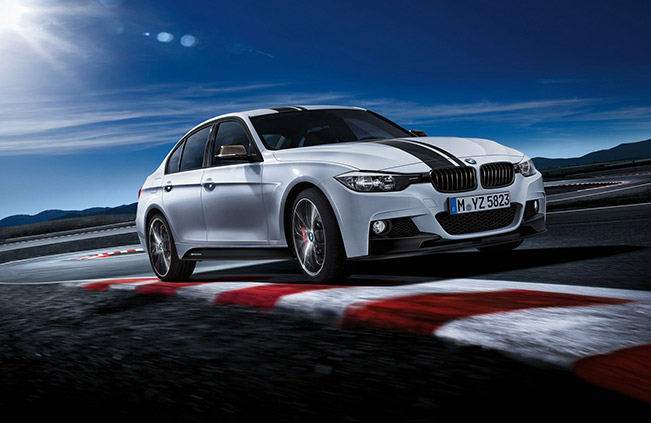 BMW is going to offer the 3-Series F30 ///M Performance Edition in South Africa. It is scheduled to hit the market in May and will come with a number of cool upgrades including engine boost.  The German manufacturer has already presented ///M Performance packages for X5 and X6 as well as the 1-Series and 5-Series F10. Now it is turn to F30 to become really impressive.
The ///M Performance Edition comes with a black front grille, a pair of aerodynamic side skirts and a carbon fiber rear spoiler. There are also carbon fiber mirror covers, ///M-Sport brake system and a set of 19" alloy wheels fitted with performance tires.
The options list also include ///M Performance stripes, an ///M Performance sports exhaust system and exclusive Laguna Seca Blue or Valencia Orange paint scheme. The ///M Performance Power Kit boosts the engine at least with 13HP (10 kW) and 30Nm (22 lb-ft) of torque (for 320d).
Production will be limited to just 500 units and the M Performance Edition package can be ordered on any model from the 320d to the 335i.
The fans will appreciate this special edition a lot, because of all these nice goodies.
Pricing:
BMW 3 Series Sedan M Performance Edition Content: R50, 000 and R65, 000 if specified with exclusive metallic paints (Price of M Performance Edition content if fitted at dealership is R 87,000).
20" BMW M Performance light alloy wheel Double-spoke 405M: R43,900
M Performance Top Stripes: R2,895
M Performance Exhaust System: R11,755
M Performance Power Kit: R15,670
Source: BMW