BMW 328i by AC Schnitzer
M cars are not the only prime candidates for first-class tuning. Take the BMW 328i for example. It's pretty neat, powerful, compact and nimble. It only takes a company like AC Schnitzer to turn it into a desirable performance machine.
The engine receives an extra control unit that amps the power from 245hp to 295hp. The maximum torque is now 410Nm. Top speed is still limited to 250 km/h but zero to one hundred happens in 5.7 seconds – .2 of a second less.
The suspension has been lowered thanks to a spring kit provided by Schnitzer and the choice of wheels is mind boggling: AC Schnitzer wheels Type IV BiColor and silver, Type VI and Type VIII in 18 , 19 and 20-inch sizes. The Type VIII are also available in BiColor - lacquered silver with bright turned aluminium accents.
Additional aerodynamic features include the AC Schnitzer front spoiler, rear roof spoiler, rear spoiler and rear skirt extension. From the latter, 2 pairs of chromy twin tailpipes stick out, giving away the AC Schnitzer sports rear silencer.
The interior of the car serves as a showcase of AC Schnitzer's"Black Line" aluminum themes – that includes the "i-Drive" system controller and the handbrake handle. Pedal set is aluminum as well and so is the foot rest. The floor mats are in velours.
You can go and see it right now at the Geneva Motor Show but if you want to get one, that's going to have to happen latter this year. In the summer perhaps.
Full specs bellow.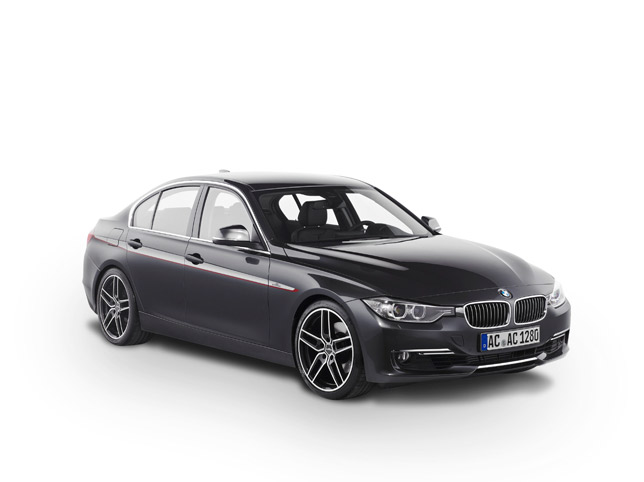 Basic car:
BMW 328i (F30)
Engine:
AC Schnitzer performance upgrade -
Performance: 217kW/295hp (standard: 180kW/245hp)
at 5800rpm (standard: 5000-6500rpm)
Maximum torque: 410Nm (standard: 350Nm)
at 2000-3000rpm (standard: 1250-4800)
Maximum speed (km/h) 250 – electronically limited
0 - 100 km/h: 5,7 seconds (standard: 5,9 seconds)
AC Schnitzer engine optics
Exhaust:
AC Schnitzer sports rear silencer with
2 chromed "Racing" tailtrims in
right / left combination
Suspension:
AC Schnitzer spring kit, lowering approx. 25 mm
Aerodynamics:
AC Schnitzer front spoiler
AC Schnitzer front grille, chromed
AC Schnitzer rear roof spoiler
AC Schnitzer rear spoiler
AC Schnitzer rear skirt
AC Schnitzer decals
Interior:
AC Schnitzer aluminium cover, "Black Line"
for BMW "i-Drive" system controller
AC Schnitzer aluminium handbrake handle, "Black Line"
AC Schnitzer gear knob with digital shift display
AC Schnitzer leather gear knob, illuminated
AC Schnitzer aluminium gear knob "Black Line"
AC Schnitzer aluminium pedals
AC Schnitzer foot rest
AC Schnitzer floor mats, velours
Wheel/Tyre sets:
AC Schnitzer Wheel/Tyre Set with Type VIII Wheels BiColor Silver
front: 8,5 x 18" with tyres 225/45 R 18
rear: 8,5 x 18" with tyres 225/45 R 18
front: 8,5 x 19" with tyres 225/40 R 19
rear: 8,5 x 19" with tyres 255/35 R 19
front: 8,5 x 20" with tyres 225/35 R 20
rear: 8,5 x 20" with tyres 255/30 R 20
AC Schnitzer Wheel/Tyre Set with Type IV Wheels BiColor
front: 8,5 x 18" with tyres 225/45 R 18
rear: 8,5 x 18" with tyres 225/45 R 18
front: 8,5 x 19" with tyres 225/40 R 19
rear: 8,5 x 19" with tyres 255/35 R 19
AC Schnitzer Wheel/Tyre Set with Type IV Wheels Silver
front: 8,5 x 18" with tyres 225/45 R 18
rear: 8,5 x 18" with tyres 225/45 R 18
front: 8,5 x 19" with tyres 225/40 R 19
rear: 8,5 x 19" with tyres 255/35 R 19
AC Schnitzer Wheel/Tyre Set with Type VIII Wheels BiColor
front: 8,5 x 19" with tyres 225/40 R 19
rear: 8,5 x 19" with tyres 255/35 R 19
AC Schnitzer Wheel/Tyre Set with Type VI Wheels BiColor
front: 8,5 x 18" with tyres 225/45 R 18
rear: 8,5 x 18" with tyres 225/45 R 18
Source: AC Schnitzer