BMW LW M4 of Lightweight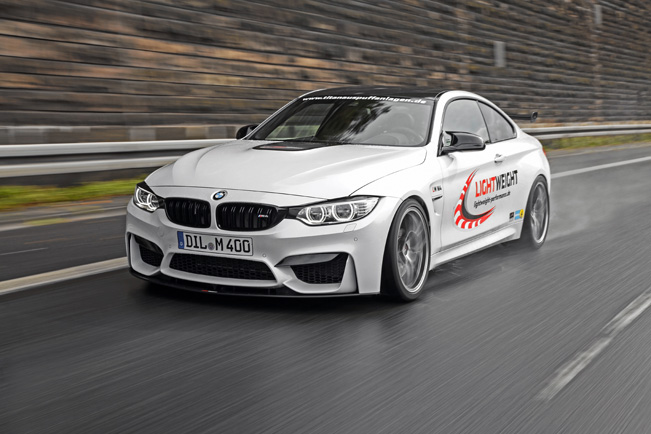 What LIGHTWEIGHT best specializes on titanium exhaust systems which are produced with CAD modern technology. The titanium LIGHTWEIGHT uses is alloyed titanium which rights of use only belong to this tuning brand. The whole technology piece is a masterpiece. The titanium itself is is highly resistant to corrosion, strong durability and low weight. If the weight economy is what really troubles tunning brands, Lightweight is the one that can answer to this task.Valve control is made from stainless steel and four piston saddles and endless brake pads on both rear and front axles. The engine of this car delivers 520 hp (375 kW) and maximum torque power of 650 Nm (479 lb-ft). BBS 9x19 wheels and Michelin PilotSportCup2 265/35-19 in 10x19 inces with Bilstein Clubsport chassis. Improved performance is provided by the front spoiler LW blade.
Lightweight planned for the near future to trim the BMW M4 in club sport. The features that can be improved are: the adjustable front spoiler blade, the spoiler lip on the trunk lid, the carbon rear diffuser, seats with six point safety belts and saferty cage. We look forward to what lightweight and club sport will achieve in making this ride even more attractive and more powerful.
Customers can get their full modified car for 89,000 euros.
Source: BMW