BMW ///M Performance TwinPower Turbo Engine Six-Cylinder Diesel - N57S
BMW has recently announced their new Diesel M Performance Division powered by the all-new N57S tri-turbocharged engine. This is the most powerful diesel ever fitted in BMW models. It showcases the commitment of the manufacturer to the pment of ultra-sporty yet impressively efficient diesel power units.
The new N57S features a lot of innovative technologies. It is the first engine adopting tri-turbocharging, latest common rail injection system with maximum pressure of 2200 bars and red line at 5400RPM making it also the most revving diesel in the world. The result is the incredible 381PS (280 kW) and 740Nm (546 lb-ft) of torque at just 2000RPM. 0-100 km/h in 4.7 seconds and a top speed of 250 km/h (155 mph) – electronically limited. In terms of efficiency, the N57S is astonishing – 6.3 liters per 100 km with emission of just 165 g/km CO2.
The new N57S needs a perfect gearbox – ZF 8-speed automatic transmission sending all that torque to the world's most intelligent xDrive AWD system.
The 2 993 cc engine achieves an incredible output of 127.3HP (93.6 kW) per litre of displacement.
The tri-turbocharging system comprises two relatively small turbochargers and one large turbo, which join forces precisely to deliver the amount of power required. This reduces the turbo-lag to minimum and gives sensational power at high revs.
Check out the gallery below to see details of the new N57S.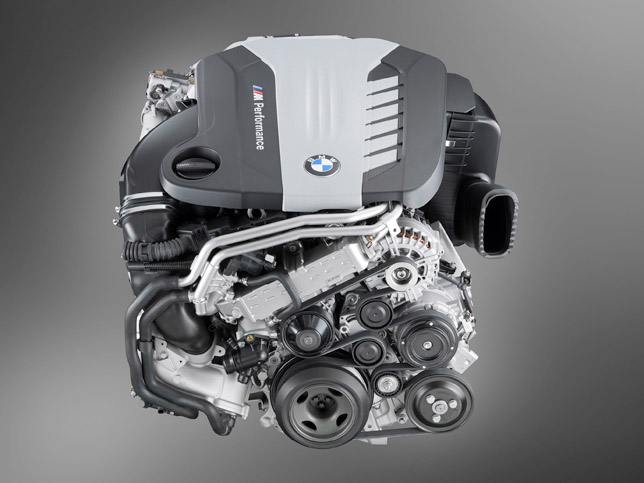 Source: BMW