BMW ///M Performance Аccessory Program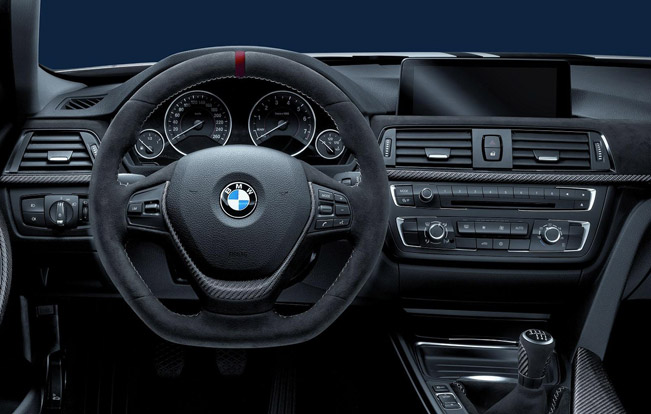 BMW M Performance program allows selective customization with a clear focus on a particularly intensive driving experience. The manufacturer specially developed M Performance upgrades for the BMW 5-Series, the new BMW 3-Series and the new BMW 1-Series as part of the Original BMW Accessories range.
The most expensive car brand in the world is planning to introduce an M Performance Power Kit at the 2012 Paris Motor Show. The kit is developed for the 2.0-liter four-cylinder diesel engine fitted in 120d, 320d and 520d models. The upgrades are a larger charge air cooler and an ECU re-map. The result is more than satisfying – 200HP (147 kW) and 420Nm (310Nm) of torque. In other words this is 100HP per liter displacement … from diesel.
This is something the driver can clearly feel, including an increase in acceleration 0-100 km/h of up to 1.0 seconds. However, this enhanced driving pleasure has no effect whatsoever on the exemplary fuel consumption and CO2 emission figures of the respective models in the EU test cycle. What is more, the high quality standard of the BMW M Performance Power Kit guarantees unlimited reliability of the engine, so the warranty terms for vehicles in which it is installed remain valid as before.
The company will eventually offer a power kit for a petrol engine, but there's no word on when it will arrive.
At a later stage the range will be extended to include a BMW M Performance Power Kit for petrol engines.
Source: BMW