2013 BMW X3 with new 4-Cylinder TwinPower Turbo engine
BMW of North America has just introduced the new TwinPower Turbo 4-cylinder engine (N20) included in the 2013 BMW X3 xDrive28i. The new engine replaces the outgoing normally aspirated inline 6-cylinder engine (N52). This is the next step in BMW's EfficientDynamics strategy. Additionally the updated models will offer new technology - combinations of package and equipment options:  new Driver Assistance Package option (ZDA) with Lane Departure Warning; optional M Sport Package adding 19" wheels to the X3 xDrive28i.
Moreover, the new X3 has also several upgraded standard equipment enhancements as a recipient of 5, 6 and 7 Series technology: Auto Start Stop, and Driving Dynamics Control with ECO PRO and the Power Tailgate.  The new 2013 X3 xDrive28i also has 18" wheels, and chrome tailpipes.
2013 BMW X3 xDrive28i received a brand new 4-cylinder gasoline engine with TwinPower Turbo technology, which will undoubtedly set a new standard for driving dynamics and efficiency. With the launch of the N20 engine introduced in the Z4, 528i and 328i, the new TwinPower Turbo 4–cylinder engine is now making its debut in the BMW X3 xDrive28i. The new-generation turbocharged engine offers plenty of power, responsive acceleration, torque and low weight for exceptional performance.
This technological innovation provides noticeably livelier power for more driving enjoyment, and it also comes with lower fuel consumption than its predecessor. The improved power and efficiency is mainly due to the use of BMW TwinPower Turbo technology, which combines High Precision Direct Fuel Injection, Double-Vanos variable camshaft timing and VALVETRONIC variable valve timing along with twin-scroll turbocharging. This provides an efficient way to extract more power from the engine.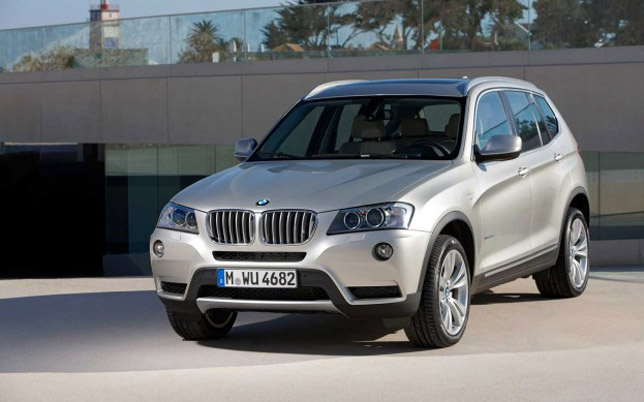 In details the new BMW TwinPower Turbo 4-cylinder's displacement of 1,997 cc delivers maximum power of 240 hp / (180 kW) at 5,000 rpm, while due to the twin-scroll turbocharging, developing maximum torque of 260 lb-ft at just 1,250 rpm and remaining constant up to 4,800 rpm. Therefore, the acceleration from 0 to 100 km/h, the BMW X3 xDrive28i does for just 6.5 seconds. The top speed is electronically limited up to 130 mph. Furthermore this new engine is the most powerful in a new generation of 4-cylinder engines.
It is designed in accordance with the BMW EfficientDynamics strategy. The aim of the strategy is to combine increased driving enjoyment with reduced fuel consumption and emissions. The new 4-cylinder engine is modeled on the current multi-award-winning inline 6-cylinder engine with BMW TwinPower Turbo technology (N55).
The latter was a benchmark in its class for dynamic power delivery and efficiency. This world-exclusive technology combines High Precision Direct Fuel Injection, Double-Vanos variable camshaft timing and VALVETRONIC variable valve timing with twin-scroll turbocharging. However, with its all-aluminum crankcase, the new engine is lighter and more compact than a 6-cylinder engine of equivalent power.
Hence, this results in the performance of the driving dynamics: the reduced load on the front axle gives this BMW SAV greater agility and more improved steering and cornering characteristics.  In addition, the new 4-cylinder engines feature twin-scroll turbocharging: the exhaust stream from cylinders 1 and 4, and the exhaust stream from cylinders 2 and 3, follow separate spiral-shaped paths to the turbine wheel. As a result, this reduces exhaust back-pressure at low engine rpm, allowing the energy of the exhaust gas pulses to be used as efficiently as possible.
To go further, the combination of a high power output and a simultaneous reduction in emissions is achieved due to the use of VALVETRONIC variable valve timing and Double-Vanos variable camshaft timing. Seamlessly variable control of intake valve lift dispenses with the need for a throttle butterfly.
Instead, the air mass is controlled inside the engine, resulting in faster response. At the same time, pumping losses have been reduced to a minimum. In addition the great efficiency is also down to the High Precision Direct Injection system, which is centrally positioned between the valves. Solenoid injectors also precisely control the supply of fuel. The fuel is injected very close to the spark plug, with a maximum injection pressure of 200 bar (2900 psi), resulting in clean and homogeneous combustion.
The cooling effect of the directly injected fuel also results in higher compression than on port injection engines, bringing further efficiency improvements. The new engine delivers nothing less than exceptional performance. This is due to various innovative features of the core engine. For instance, twin balancer shafts positioned at different heights result in optimized vibration absorption, while a centrifugal pendulum absorber integrated in the dual-mass flywheel conveys a reduction in irregular running at low engine rpm.
These factors all help to explain why the new 2.0-liter 4-cylinder engine achieves refinement, noise and vibration of a kind that was previously reserved for BMW 6-cylinder engines.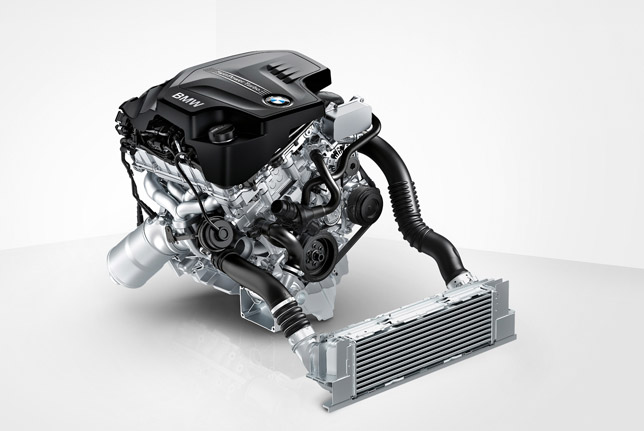 Additionally to the new 4-cylinder engine, there is also inline the 6-cylinder engine (N55) in the new BMW X3 xDrive35i. It delivers effortless power, exceptionally fast-revving temperament and outstanding refinement. The N55 has been setting standards from the start, as the pioneer of a new generation of engines in which BMW TwinPower Turbo technology with High Precision Direct Injection and VALVETRONIC variable valve timing plus a twin scroll turbo made its debut.
In addition, BMW has further reduced its fuel consumption ad yet retaining its high performance. It offers maximum power rating of 300 hp (225 kW) at 5,800 rpm. The high peak torque of 300 lb-ft, on stream between 1,200 and 5,000 rpm and it ensures that the power is effortlessly and instantly delivered. At last to be motioned is that the X3 will continue to impress its customers with new Technology. Auto Start/Stop will now be standard on both the X3 xDrive28i and X3 xDrive35i.  There is also included Driving Dynamics Control with ECO PRO mode, which also enhances fuel efficiency by. The new Driver Assistance Package includes Lane Departure Warning that warns the driver if unintentionally straying out of their lane.
The new models will be in BMW Centers in the U.S. in May with a Manufacturer's Suggested Retail Prices (including $895 destination and handling) of $39 395 for the X3 xDrive28i and $44 495 for the X3 xDrive35i.
Source: BMW