BMW xDrive - World's Most Intelligent AWD System
BMW xDrive is claimed to be the world's most intelligent all-wheel-drive system. It was firstly introduced back in 2003 with the previous BMW X3 (E83). Since then, it has been offered with X1, X3, X5 and X6 as standard and in 3-Series (E90,F30), 5-Series (E60, F10) and the latest 7-Series (F01) as an option.
The xDrive system helps providing perfect traction at any driving conditions. It works just perfectly no matter you drive your BMW at snow, rain, mud or dry asphalt.
The world's most intelligent all-wheel-drive system operates by using data from the DSC (Dynamic Stability Control) sensors and from the gas pedal. It continuously monitors the car's driving condition and when wheel spin is detected, the electronically controlled multidisc clutch (situated at the rear end of the gearbox) reacts immediately to transfer drive force wherever is needed – front or rear axle. Everything happens in only few milliseconds so drivers can hardly feel it. The system optimizes the torque split based on the available traction. Furthermore, brakes can be applied as needed to prevent unnecessary wheel spin. As you may suggest, the xDrive is connected to the ABS and DSC systems.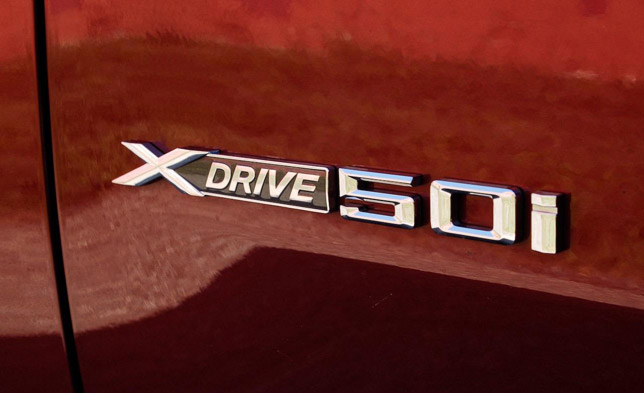 2008 BMW X6 xDrive50i
The xDrive doesn't have limited slip differentials, so it relies on brake application by the DSC system to transfer power from the slipping wheel to the wheel with traction.
The most fascinating thing about xDrive is that the driver can enjoy all the advantages of rear drive like precise control, neutral cornering behavior and a good separation between the operation and management.
In normal driving conditions, the xDrive sends 60% of the torque to the rear axle and 40% to the front. However, it can draw up to 100% of power to either front or rear axle.
Remember to keep the DSC system always on, which will guarantee supreme safety combined with the xDrive. Still, in some cases, you can turn of the DSC system and to have a lot of fun the world's most intelligent all-wheel-drive system – BMW xDrive!